Aeolus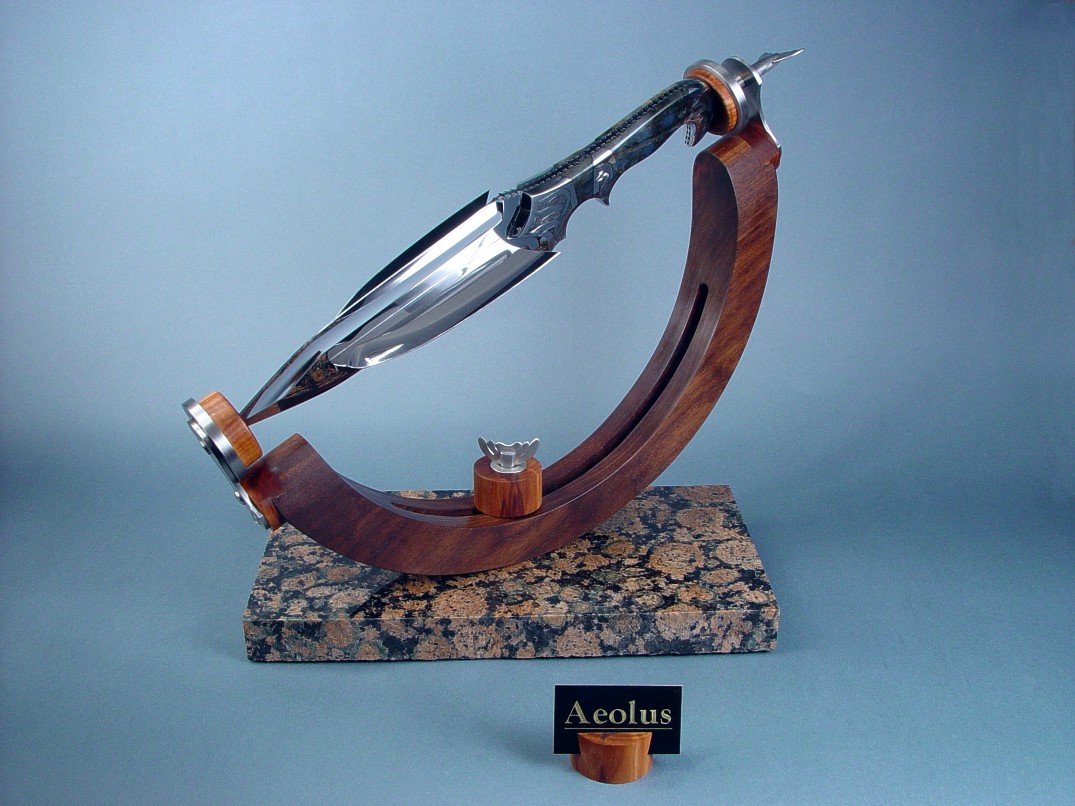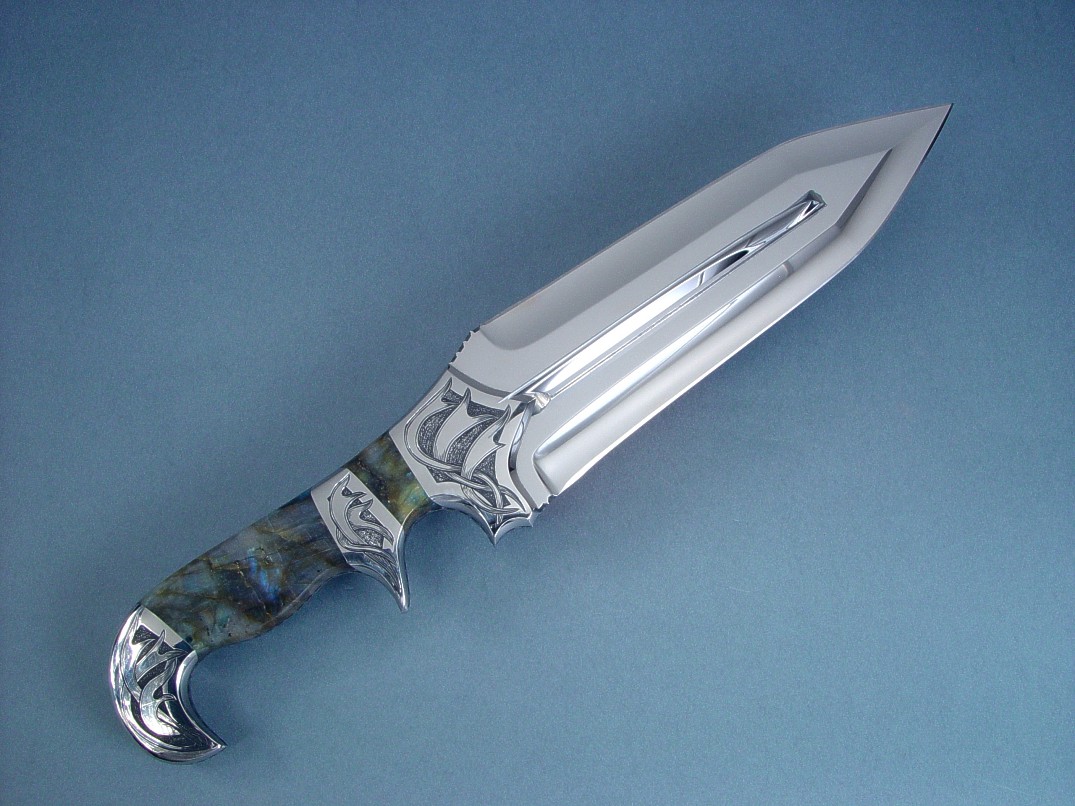 "Aeolus" Custom Art Knife
Size:
Knife: Length Overall: 14" (35.6 cm), Blade Length: 8.5" (21.6 cm), Thickness: Main Blade: .214" (5.4 mm), Cross Blade: .242" (6.1 mm)
Stand: Width: 12" (30.5 cm), Depth: 6.4" (16.3 cm), Height: 17" (43.2 cm) at tallest adjustment
Weight:
Knife: 1 lb. 1 oz. (482 grams)
Stand: 10.0 lbs. (4.5 kilograms)
Blades: 440C high chromium martensitic stainless steel, hardened and tempered to 59HRC, mirror polished
Bolsters, Fittings: Hand-engraved 304 austenitic stainless steel
Handle: Polished Labradorite gemstone
Stand: Peach Hardwood, American Black Walnut Hardwood, 304 austenitic stainless steel, Baltic Brown Granite, neoprene feet, engraved flat black lacquered brass nameplate
Knife: If ever a knife was made that looked like it could fly away, it is Aeolus. Aeolus is named for the Greek god of the winds, and is a custom knife designed and made for a special client. The origin of this knife was the blade of my Hercules dagger, which has a cross-blade style ricasso, and the handle of my Wardlow bowie which has a well-defined and boldly sculpted shape. My patron was gracious enough to allow me full freedom on this knife, to produce it the way I felt would compliment the two styles in an original work of art. The most stunning aspect of this knife is the cross blade. The two blades are made from 440C high chromium martensitic stainless tool steel, and I hollow ground the blades with a three inch contact wheel to create a very tight and well-defined hollow grind in quarter inch thick stock for substantial weight and strength while yielding a very thin and aggressive quad of cutting edges. The main blade was carefully milled to accept the body of the cross-blade, which is bonded with high tensile strength solder and a press-fit. This was no easy task, and many hours were spent with small dressing stones to apply the razor edges on all four blade grinds. The main blade has full filework in a tight, clean, and machine-like pattern reminiscent of a riveted airplane body. The filework is full, from thumb rise to choil, and the tang is fully tapered while leaving plenty of thickness for strength. The bolsters are large and bold, sculpted in 304 austenitic high nickel, high chromium stainless steel. I hand-engraved all six bolster faces with a pattern like wind in flight, which breaks out of the deeply backgrounded margins. The bolsters are dovetailed and bed two pairs of polished Labradorite gemstone handle scales. The Labradorite has the property of labradoressence, which is a striking light play of color and iridescence when the light angle and the viewing angle are just right. The color reminds me of a bright, even tropical sky. I tried to capture that in the thumbnail knife photos below. The knife feels strong and massive in the hand, with the large cross blade dominating the profile at any angle and position.
Stand: This knife needed a very special display stand, so I created one that can display the knife in any position. The stand is fully articulating; the knife can be turned around its axis in any position, and the bowed form of the stand allows the knife's axis to be positioned at nearly every angle. I started with the specialized holders for the knife, devices that would allow the knife to be held firmly, yet without damage. This called for a very special hardwood, one that is very hard, tough, and dense, one that would not split or fracture. I chose Peach for these load-bearing parts, as it is definitely up to the task. A Peach block holds the point in a dedicated slot, and the point end of the fixture is fully articulated and rotates around its axis on a nylatron bushing. On the handle end, a turned and polished Peach hardwood cup holds the handle butt, and is held in place by a tension screw. Both ends of the holders are mounted to Peach blocks which are bedded into a solid American Black Walnut bow. All the woods have a natural oiled and waxed finish for an authentic appeal. The bow is slotted in the center, and a hand-sculpted wing bolt secures the bow in any position to the base. All of the metal components on the stand are 304 austenitic high nickel, high chromium stainless steel, which is a zero-care tough stainless, brushed finished for a satiny soft look. The bow is secured to a fixed threaded socket in the base of polished Baltic Brown Granite. The granite has four small inset feet of neoprene in the bottom for a non-scratch gentle setting. The stand is accompanied by an engraved, flat black lacquered brass nameplate, setting in a crescent-shaped block of Peach hardwood.
The artistic notions of this knife suggest flight, tension, and freedom, all at once. It is a spectacular, original, and unique art piece that photographs can only suggest and not capture, and I'm glad that it will find a worthwhile place in my patron's collection, suiting him particularly well!
Thanks, P. K.!
In my wildest dreams I never would have thought of the design of the art knife or the display unit. I have always maintained No Input from me is the only way to purchase one of your art pieces. I feel sorry for the clients who insist on their own input... because they are missing out on a unique art work that could have been created by you!
Best always!
--P.
---
---