Altair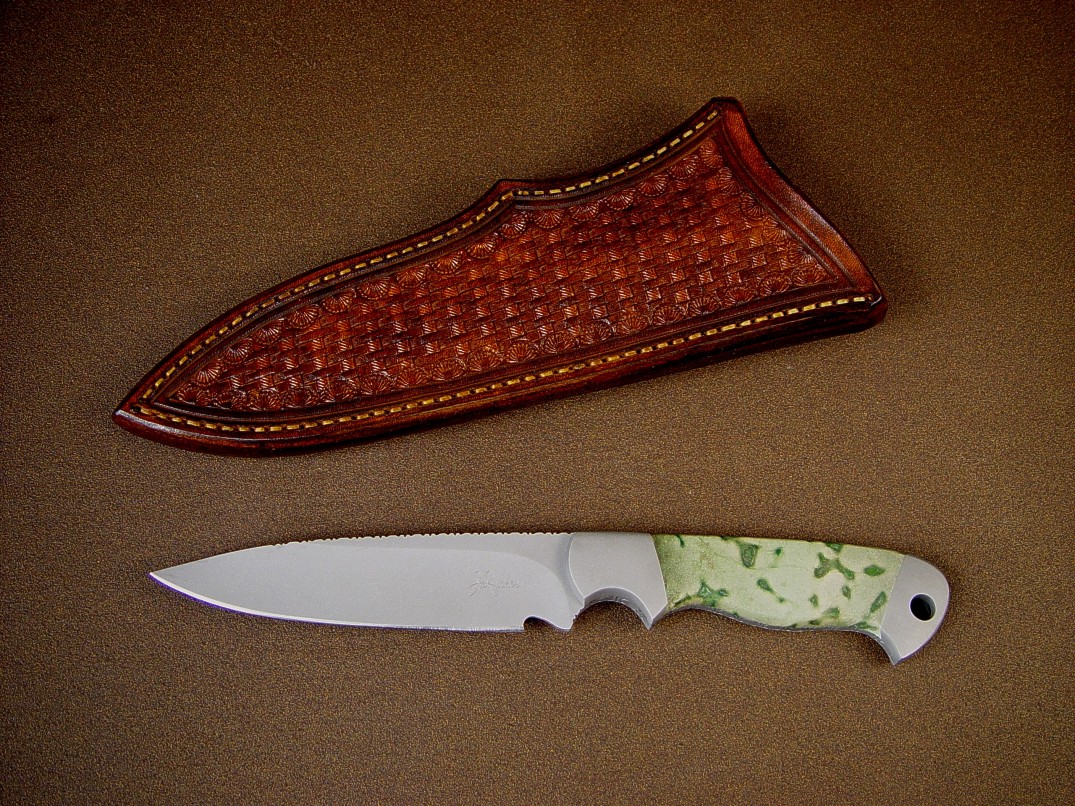 "Altair" Fine Working, Collector's Knife
Size: Length overall: 9.7" (24.6 cm), Blade Length: 5.0" (12.7 cm), Thickness: .214" (5.4 mm)
Weight: Knife: 8.7 oz. Sheath: 5.3 oz.
Blade: CPM S30V High Vanadium Stainless Steel, Hardened and Tempered to Rockwell C59
Bolsters, Fittings: 304 Austenitic Stainless Steel
Handle: Polished Frog skin Jasper Gemstone
Sheath: Hand-stamped leather
Knife: Answering some calls for a super tough, great looking, serious working tool, here it is. The Altair is named for the vertex star in the summer triangle constellation of Aquila. The knife is a clean, straightforward design, a working drop point blade shape that's easy to sheath and great for utility, control, and hard work. I wanted this knife to be very durable, so I chose CPM S30V high vanadium martensitic stainless steel for the blade. This steel can not be mirror finished, so I went for an all bead-blasted appearance, flat and frosty-clean. CPM S30V is a crucible particle metallurgy tool steel, so is formed in powder, pressed and fused into a bar. This allows even distribution of high alloy contents, like vanadium (this steel has about 3% of vanadium). The high vanadium content (with proper heat treating, hardening and tempering) creates a structure filled with vanadium carbides, which are very, very hard. What that means to the user is that this steel is one of the most wear resistant tool steels made. It will hold an edge for an extremely long time. Appropriately, this is not a knife that is easily sharpened; when it does eventually dull, you'll face some serious time on the stone to sharpen it. I recommend diamond and ceramic sharpening stones and plenty of patience! Out of the shop, this knife has a very keen razor edge that is quite formidable. In order to have a very durable knife, I also went for fairly thick stock for this size of knife, over .20", which allowed a very deep hollow grind, thus high longevity of the blade. I fully fileworked the blade, and engraved evolving accents in the filework on the top of the spine. The inside handle has filework with no engraving. I wanted this knife to have zero care, super tough bolsters, so I made these of 304 high chromium, high nickel stainless steel, and bead blasted them to match the blade. This also gives them plenty of textured tooth for gripping, and the knife absolutely locks into the sheath at the front bolster face. For color, beauty, and visual interest, I chose a tough, hard Frog skin Jasper gemstone for the handle, all natural in color, sealed, polished, and smooth. You won't see a handle like this anywhere else! The handle shape is comfortable, the handle is solid and firm, with a balance point right at the rear point of front bolster. I included a large, 5/16" through-tang lanyard hole in the rear bolster for extra security if you need it.
Sheath: For the sheath, I made an all-business basket weave-pattern model with 9 - 10oz. leather shoulder, russet dyed, hand-stitched with polyester sinew, lacquered and sealed. This is a tough, thick, and heavy sheath with substantial welts, weight, and thickness, and should last for decades with moderate care.
This is a great knife, suitable for hard work, yet beautiful enough for display and investment.
Thanks, P. K.!
The Altair's bead blasting gives the weapon a sinister look that has to be seen in person to truly appreciate. The filework is perfect, sheaths are designed to highlight the piece and there is nothing more that can be added to them!
--P.
---
---