Argyre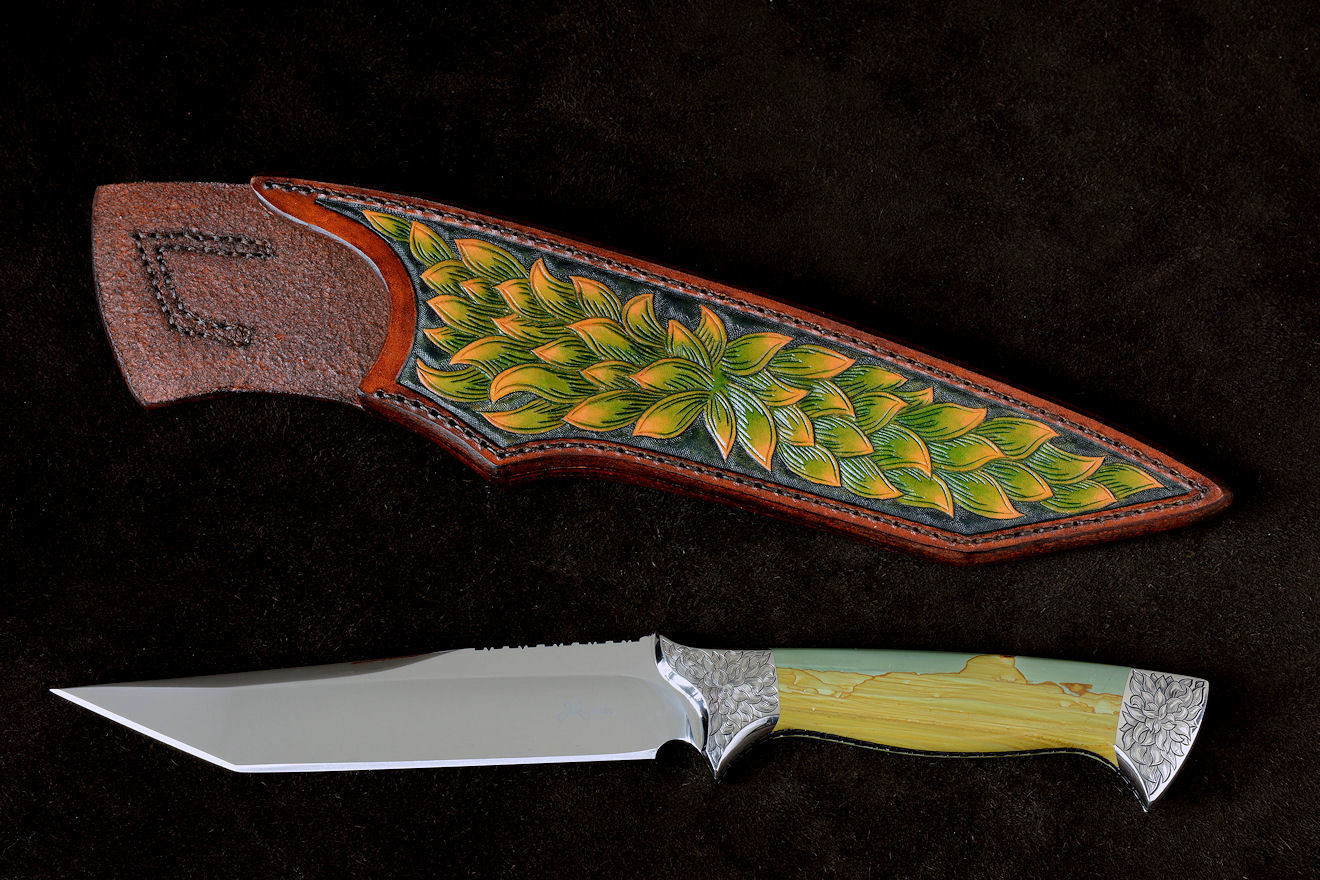 "Argyre"
Size: Knife: Length overall: 12.4" (31.5 cm), Blade Length: 7.0" (17.8 cm), Thickness: .201" (5.1 mm)
Weight: Knife: 12.5 oz. (354 grams) Sheath: 5.8 oz. (164 grams)
Blade: 440C High Chromium Martensitic Stainless Steel, Hardened and Tempered to HRC58, Mirror Polished
Bolsters, Fittings: 304 Austenitic Stainless Steel, mirror polished, hand-engraved
Handle: Australian Landscape Jasper Gemstone
Sheath: Hand-carved leather, hand-dyed
Knife: The name Argyre comes from Greek and Roman mythology, and is the name for a mythical island of silver. The bright silvery color of chromium is at the forefront of this Argyre, in highly polished and embellished stainless steel. The blade is a geometric study of acute angles in a tanto style, completely hollow ground throughout. The grinds are crisp, clean, even and accurate, and highly polished for a lustrous glow. The blade has a devastatingly sharp point, where the confluence of the tanto yokote (dividing line) and the half-length top swage meet. The blade is fileworked throughout, with a punchy, regimented pattern reminiscent of blocks, ladders, or even building bricks. The tang is fully tapered for balance of weight, which is critical since the Argyre pattern has a long handle, meant for a large, comfortable grip. The razor-keen single bevel cutting edge is even and smooth, and the grind termination cleanly and decisively radiused, to transfer force to the blade without stresses. The ricasso is small for abundant edge, and the front bolster face is sculpted to take maximum advantage of ricasso. The bolsters are my favorite 304 high chromium, high nickel austenitic stainless steel for maximum toughness and durability with zero care. They are dovetailed and bed a pair of fascinating gemstone handle scales. This is Australian Landscape Jasper, an intriguing rock that was initially formed through sedimentation processes, but then was fused deep beneath the earth through metamorphic process into a very hard, tough, and durable microcrystalline quartz. In this fusion, you can see the results of pressure shifting that has sheared the stone and then re-fused the rock into a homogenous material. There are no actual cracks, seams or fissures in this stone; it's one very solid and smooth piece, notwithstanding the curious pattern (below). The time, pressure, temperature, and forces necessary to do this boggle the mind; truly this is a rock that was billions of years in the making. The landscape is fascinating to study, with golden to greenish brown figures that reminded me of some distant planet, perhaps near the shore of that mythical silver island. This inspired me to create the solar burst design I hand-engraved on the stainless steel bolsters and the bursting green and gold design in the sheath, a green flare in a distant and forgotten land. The jasper is a hard microcrystalline quartz; it will literally outlast every other part of the knife, and you and I, and our descendants! I've polished it to a smooth and glassy finish, and the knife handle feels wonderful in the hand. The handle is a long one, one of the longest I make on this size of knife, yet the balance is just right, at the forefinger in forward grip.
Sheath: I wanted a very special sheath for this knife, one that represents and is commensurate with the colors, patterns, design, and theme of the knife. I hand-carved and hand-dyed this sheath from 9-10 oz. leather shoulder, taking many days of successive transitional layering of color dyes applied by micro-brush to achieve the look I wanted. The sheath is tooled and dyed front and back, and even the belt loop is completely finished to match. The sheath is stitched with nylon for strength, and the belt loop has double row stitching for extra durability. The leather is coated and sealed, with edges smoothed and comfortable. The knife sits deeply and tightly in the sheath, with plenty of flavorful handle exposed to ease unsheathing.
I hope you will be inspired as I was in creating this special knife. The details and execution of the style, form, materials, finish, and overall theme of the piece is one I'll be proud of for many years.
Thanks, L. B.!
---
Jay,
I received the knife. It is amazing and a valued addition to my collection. It joins knives made by both some of the most famous makers (Moran, Loveless, D'Holder, Dean, Hendrickson, Warenski, Schmidt, Kessler, Morseth, etc.) and many up and comers I believe in.
I really believe your are a great knife maker on the rise!
Thanks again, and please keep me posted on anything else you make that comes available.
Best,
--L. B.
---
---