Hooded Warrior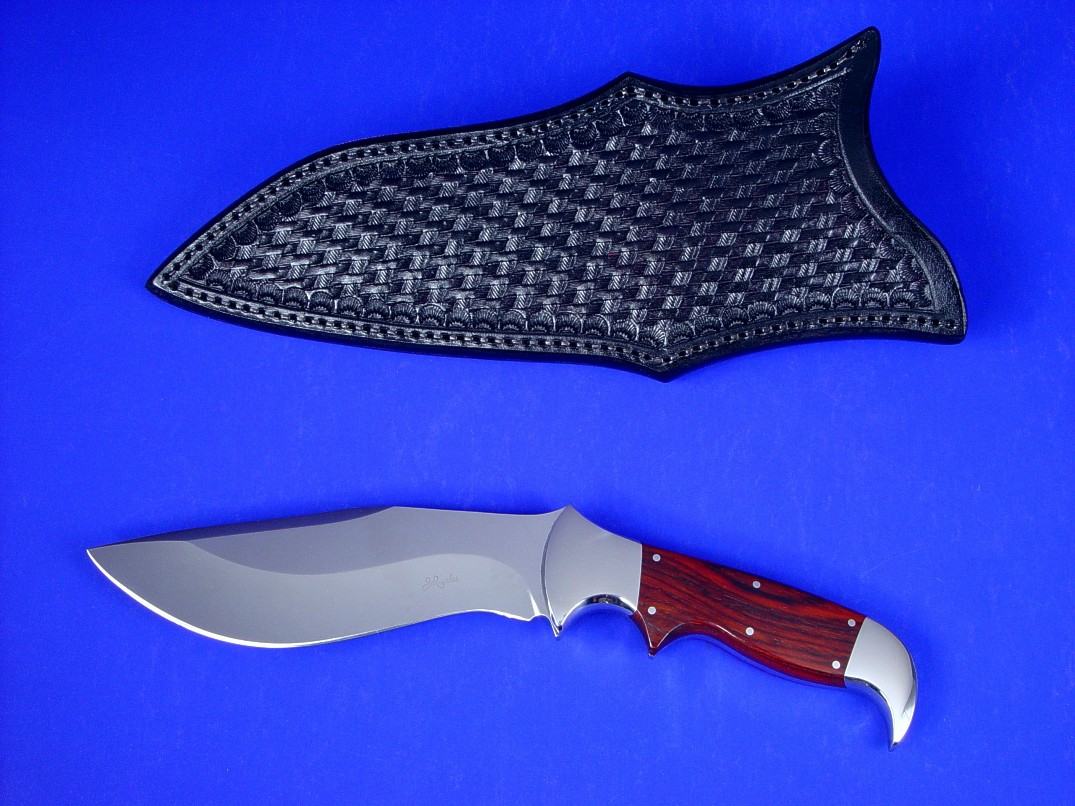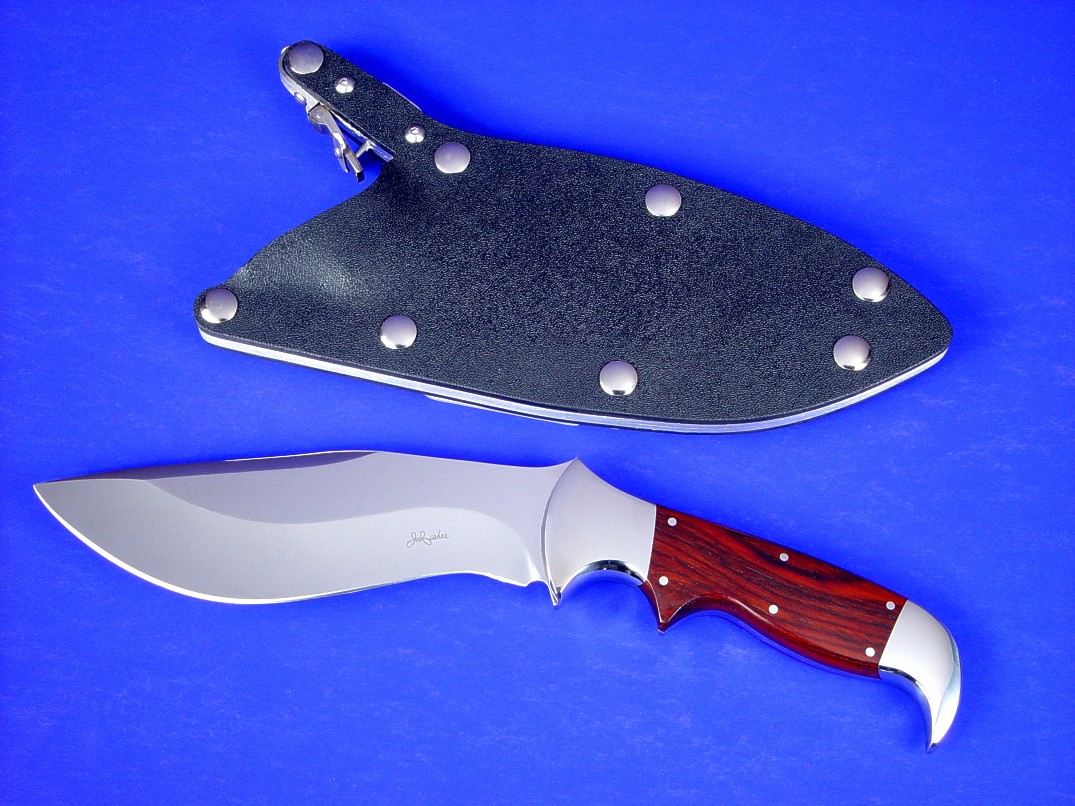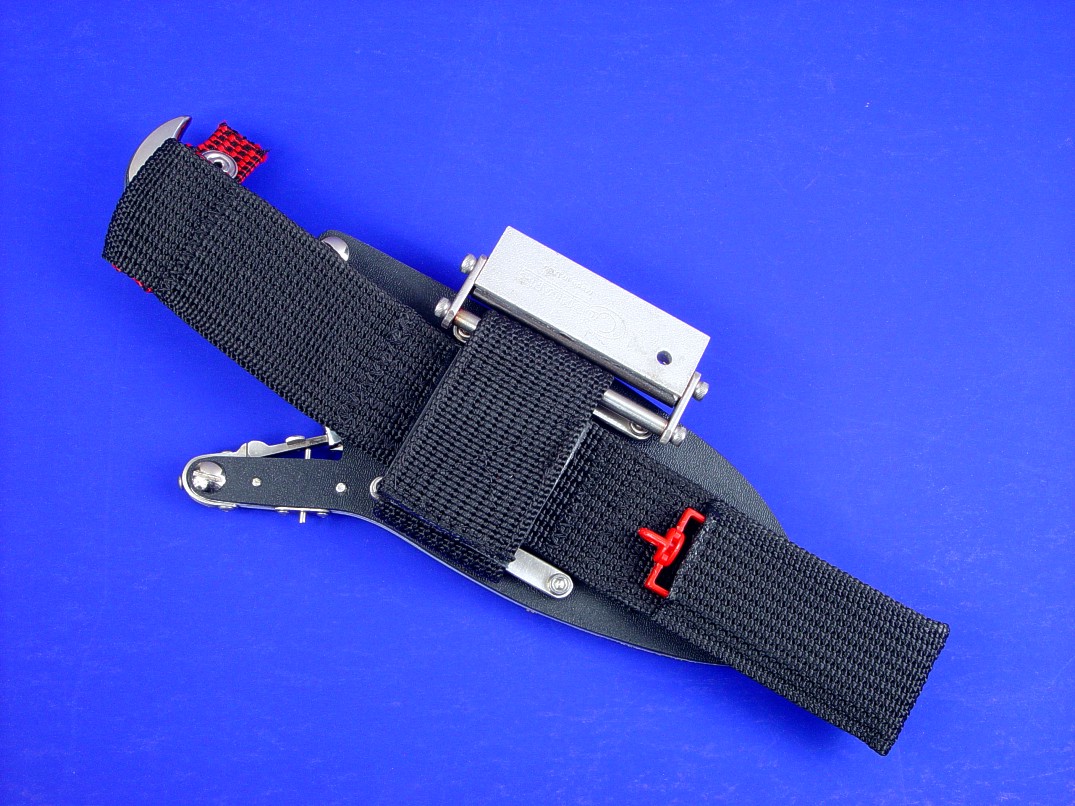 "Hooded Warrior" Working, Tactical, Combat Knife
Size: Length overall: 10.6" (26.9 cm), Blade Length: 5.75" (14.6 cm), Thickness: .1865" (4.7 mm)
Weight: Knife: 12.5 oz. (354 grams) Sheath:7.9 oz. (224 grams)
Blade: 440C High Chromium Martensitic Stainless Tool Steel, Hardened and Tempered to 58HRC
Bolsters, Fittings: 304 Austenitic Stainless Steel
Handle: Cocobolo Exotic Hardwood
Sheath 1: Hand-stamped and tooled leather sheath
Sheath 2: Locking Kydex, aluminum, stainless steel, nickel plated steel
Extender: "Ultimate" sheath belt loop extender in polypropylene, nylon, diamond pad sharpener, Firesteel-magnesium block fire starter
Knife: One of my most popular combat knife patterns and styles, the Hooded Warrior is a derivative of a khukri or recurve blade style with plenty of punch and the design was designed by a professional military sniper for his use and carry in combat. The style of knife is also practical and sturdy, a real working knife with a personality! The blade is deeply hollow ground from 440C high chromium martensitic stainless tool steel and crisply and accurately mirror polished for the ultimate in corrosion resistance and long lasting value. The grinds are sweeping and curved and follow the profile of the edge for a uniform thinness even after repeated sharpenings, and the cutting edge is razor keen. The flats of the blade are immaculate and mirrored, and the blade has a half-length top swage to reduce point profile and cross sectional area without sacrificing spine strength. This Hooded Warrior is very smooth, with no filework and a wide ramp at the thumb rise to apply thumb pressure at the top of the front bolster. The bolsters are zero care 304 austenitic high nickel, high chromium stainless steel, and are smoothed, contoured for comfort and mirror polished throughout. The bolsters are dovetailed and bed a pair of tough, naturally sealing and resinous Cocobolo hardwood, one of the tropical rosewoods that is durable, dependable, and hard. Bright and reddish now, this rosewood will eventually darken with normal oxidation, giving a deep, rich patina and a dark brown finish that is maintained simply by hand-rubbing. The handle scales are bedded and sealed, secured with the dovetailed bolsters and six 304 stainless steel zero-clearance through-tang pins. The handle shape has a large forefinger groove for control, and a good portion of belly that is comfortable in either forward or reverse grip style. The tang is fully tapered for balance, and the rear bolster frames a hawk's bill quillon that makes the knife easy to extract from the deep sheath. This is a very tough, curvaceous, and field-proven knife, and it's no wonder it is one of my most popular knives for combat, defense, tactical use, or collection. With the materials and construction of this knife, it will easily last for generations with minimal care.
Sheath 1: The sheath for this Hooded Warrior is made of heavy weight, hand-stamped and tooled Black Cherry dyed 9-10 oz. leather shoulder, hand-stitched with durable polyester sinew with double stitching at the 2.75" belt loop for extra strength. The leather is lacquered and sealed for longevity, and the knife rests deeply and protected in this custom sheath, safe for the owner as well as the knife. With thick welts and robust construction, it should last a lifetime.
Sheath 2: I also created and added to the package one of my fine waterproof locking tactical knife sheaths, simply the best combat grade knife sheath made. It's constructed of double thickness kydex, 5052H32 corrosion resistant high strength aluminum alloy welt frame and belt loops, 304, 302, and 316 stainless steel locking mechanism and components, bound with nickel plated steel Chicago screws and 18-8 stainless machine screws. The high strength aluminum belt loops are reversible for a variety of wear positions.
Ultimate Sheath Belt Loop Extender: This well-made and useful accessory allows a lower, more traditional placement of the locking knife sheath on the belt, will accommodate thicker belts and belts up to 2.5" wide, and includes the anti-flop shock cord with snap retention, the diamond pad sharpener, and the Firesteel-magnesium block fire starter. All stainless steel hardware construction. Learn more about these useful accessories here.
A proven, tough, and distinctive knife for use or collection, with durability and longevity built in and a variety of wear, mount, and carry options.
Thanks, M. D.!
Hi, Jay.
My knife came yesterday and all I can say is Wow. This is easily the nicest knife that I have ever held. The design is well thought out down to the smallest details and is exactly what I was looking for. Very ergonomic, capable of just about anything I would need a knife for and a formidable weapon for self defense. The craftsmanship is Incredible. The symmetry of the blade and the fineness of the edge are magnificent. The mirror polish is just like looking in the mirror. And it has the kind of balance that makes it want to be in your hand. I really like both sheaths and your tactical sheaths is far nicer than any that I have seen. I could go on and on. I'm moving to 30 acres In Colorado in about 4 months so I wanted a nice knife to carry out there and this one got the job. I plan on keeping this knife until I'm old and giving it to a younger person in my family.
I feel like I got a very good deal from you as far as pricing, it could have cost much more and I would still have been happy. It is a privilege and honor to own this knife and I am deeply grateful to have been allowed to get it.
You will probably hear from me in a year or so and I will order a investment/display knife so that I have a mint condition piece from you as I am now a big fan of your work.
Thank you.
Sincerely,
M. D.
---
---