Izar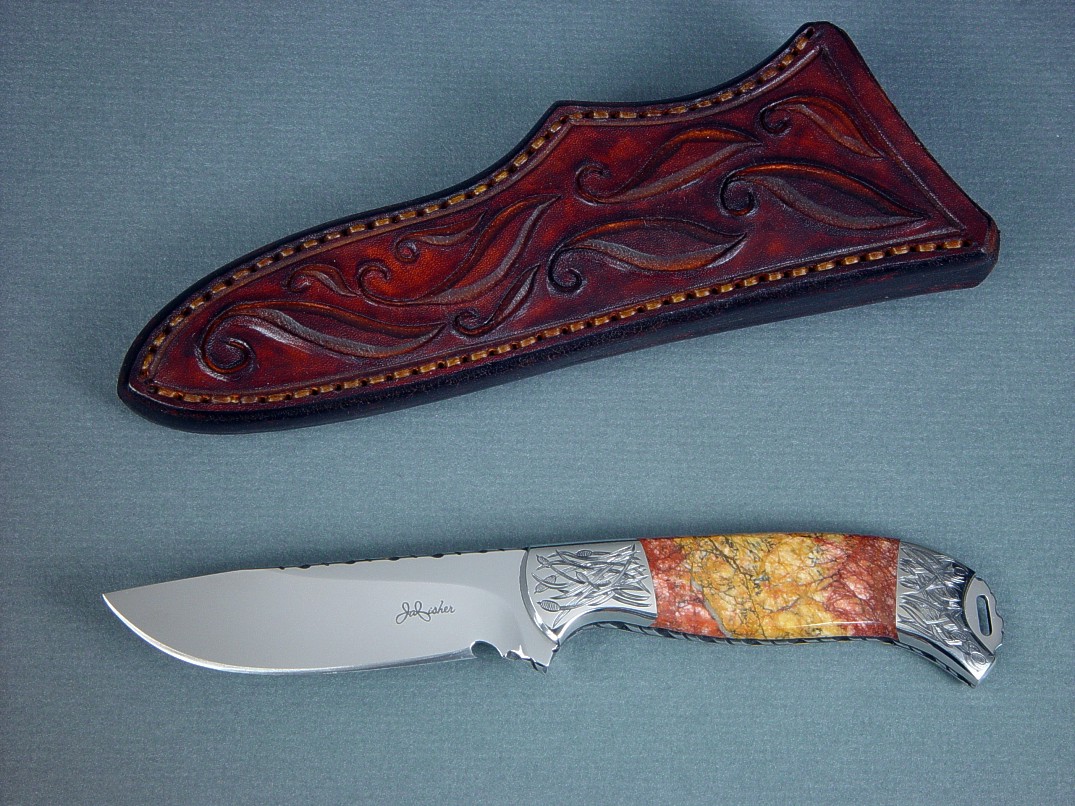 "Izar" Custom Handmade Knife
Size: Length overall: 7.25" (18.4 cm), Blade Length: 3.25" (8.3 cm), Thickness: .192" (4.9 mm)
Weight: Knife: 5.7 oz. (162 grams) Sheath: 3.4 oz. (96 grams)
Blade: 440C High Chromium Stainless Steel, Hardened and Tempered to Rockwell C59
Bolsters, Fittings: Hand-Engraved 304 Austenitic Stainless Steel
Handle: Sunset Jasper Gemstone
Sheath: Hand-Carved Leather Shoulder
Knife: The Izar is a popular small drop point knife pattern, named for a star in the constellation Bootes. This custom Izar has a nicely hollow ground and mirror polished blade of 440C high chromium martensitic stainless tool steel with an extremely sharp single bevel cutting edge. The deep grind leaves plenty of very thick spine to support the blade, and the blade has nice belly and a thin yet stout dropped point that is easy to sheath. The knife blade has full twist or rope filework from tip to deeply cut choil, throughout the fully tapered tang. The knife is bolstered with zero-care high nickel, high chromium austenitic 304 stainless steel, on which I hand-engraved a cattail grassy design. The design matches the fine black lines and patterns of the Sunset Jasper gemstone handle scales, well-matched and chosen to display plenty of reds and golds with fine black lines and beautiful color. This jasper is tough and durable, and smoothly polished. The handle is comfortably shaped for the hand, and the rear bolster has a dressed and polished cutout to reveal a slotted lanyard hole in the blade tang.
Sheath: The sheath I hand-carved front and back from 9-10 oz. leather shoulder, dyed a medium brown, hand-stitched with polyester sinew, lacquered and sealed.
An elegant knife, well designed and outfitted.
Thanks, R. K.!
...I totally love it, every aspect is awesome, love the engraving.
Thank you very much.
Cheers
R. K.
---
---