Kadi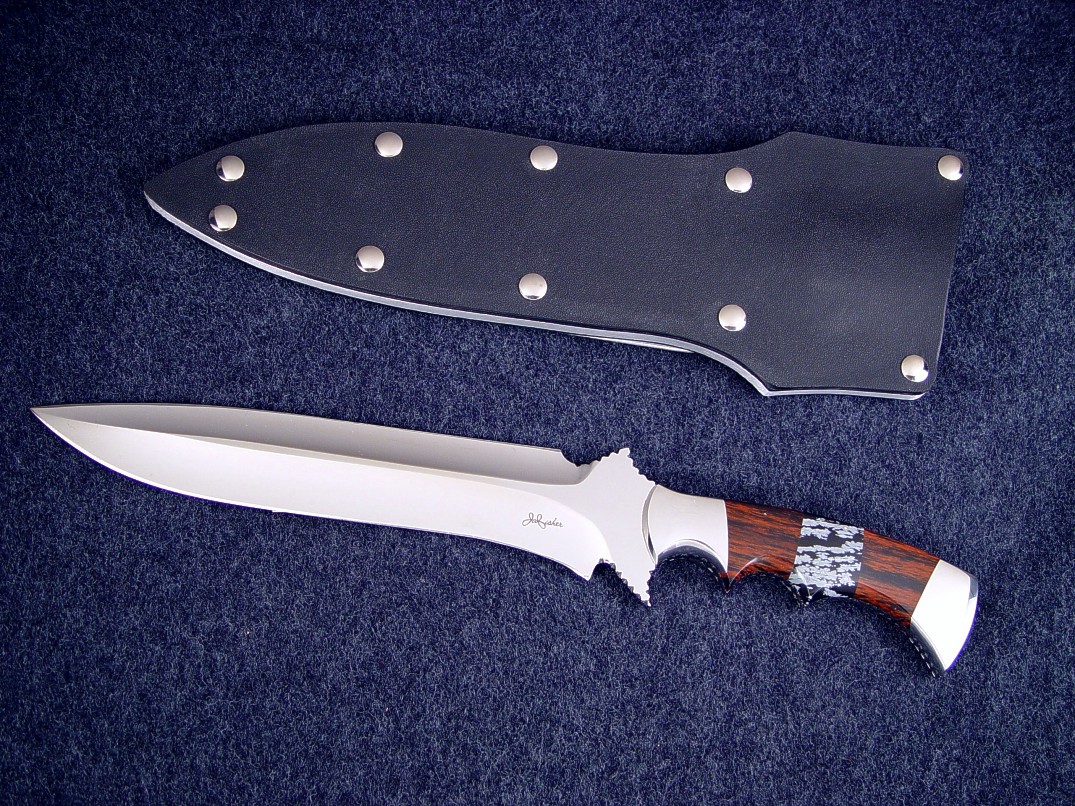 "Kadi" Fine Collector's Grade Tactical Knife
Size: Size: Length overall: 14.25" (36.2 cm), Blade Length: 9.1" (23.1 cm), Thickness: .260" (6.6 mm)
Weight: Knife: 1 lb. 2.2 oz. Sheath: 15.8 oz.
Blade: 440C High Chromium Martensitic Stainless Tool Steel, Hardened and Tempered to Rockwell C58, double hollow ground and mirror polished
Bolsters: 304 Austenitic Stainless Steel, mirror polished
Handle: Polished Mahogany (Goldshine) Obsidian and Snowflake Obsidian Gemstone
Sheath: Kydex, Aluminum, Nickel Plated Steel
Knife: A custom knife designed by one of my favorite clients, Kadi is a hybrid of my Treatymaker blade style with my Flammarion handle style. Kadi is an impressive knife; the double edged, double hollow ground and brightly mirror finished 440C high chromium martensitic stainless tool steel blade is over 14 inches long. I performed a differential hollow grind with an 8" contact wheel and a 3" contact wheel, and preserved plenty of spine thickness in the center of the blade to support these large razor keen edges. The grinds are clean and crisp, well matched, with sweeping grind terminations for a great preservation of strength between the blade and handle. The knife has a significant thumb rise and forefinger quillon for safety and comfort, and the fully tapered tang is fully fileworked with a deep, regimented pattern reminiscent of the patterns on the Snowflake Obsidian. The bolsters are zero care, hard and tough 304 high chromium, high nickel austenitic stainless steel, and are dovetailed and polished. They hold a beautiful mosaic gemstone handle of six carefully matched pieces of Obsidian. Mahogany Obsidian (also called Goldshine Obsidian) has wood grain-like patterns of reddish brown running through a field of semi-transparent black, and the Snowflake Obsidian pattern is striking and bold. The fit of this mosaic handle is seamless, and it was a very difficult handle to make, but it was worth it. The handle, with its deep finger grooves and contoured rises is very comfortable and smooth to the hand. This is a large, substantial, and impressive knife, and I was honored to make it, but sad to see it leave the shop!
Sheath: The sheath that my client requested for this knife is made of double thick kydex, 5052H32 corrosion resistant aluminum, and nickel plated steel Chicago screws, one of the toughest sheaths made.
Thanks, B. M.!
WoW what a knife. The balance is perfect. The grip for my 7.5 sized glove hand is perfect. Looking at the dovetailed stones-- there are no gaps whatsoever. Especially pleasing is the middle section of stone pointed on the palmar side of the grip at the apex of the curve. Never before did I appreciate how filework is nothing unless bordered by the bolsters and the stone. It is really set off with a border. The colors make you look the handle up and down in a sweeping way so as to appreciate the unit as an organic whole. I examined the knife under 3.5X mag. Especially the filework. I note that alternating flowers of 1 and 3 file strokes on opposite sides of the tang have slight variances which point to true hand work...not machine CNC. This especially is true with the 3 stroke cuts. Sometimes they are a perfect "W" and others have a slight outward tilt/curve to the upper right stroke of the "W" When I hold the knife I am transmitted to a different time when a Feudal Lord or Pioneer of means could commission such a work of practical art from a craftsman such as yourself...WOW.
--B. M.
---
---