Ladron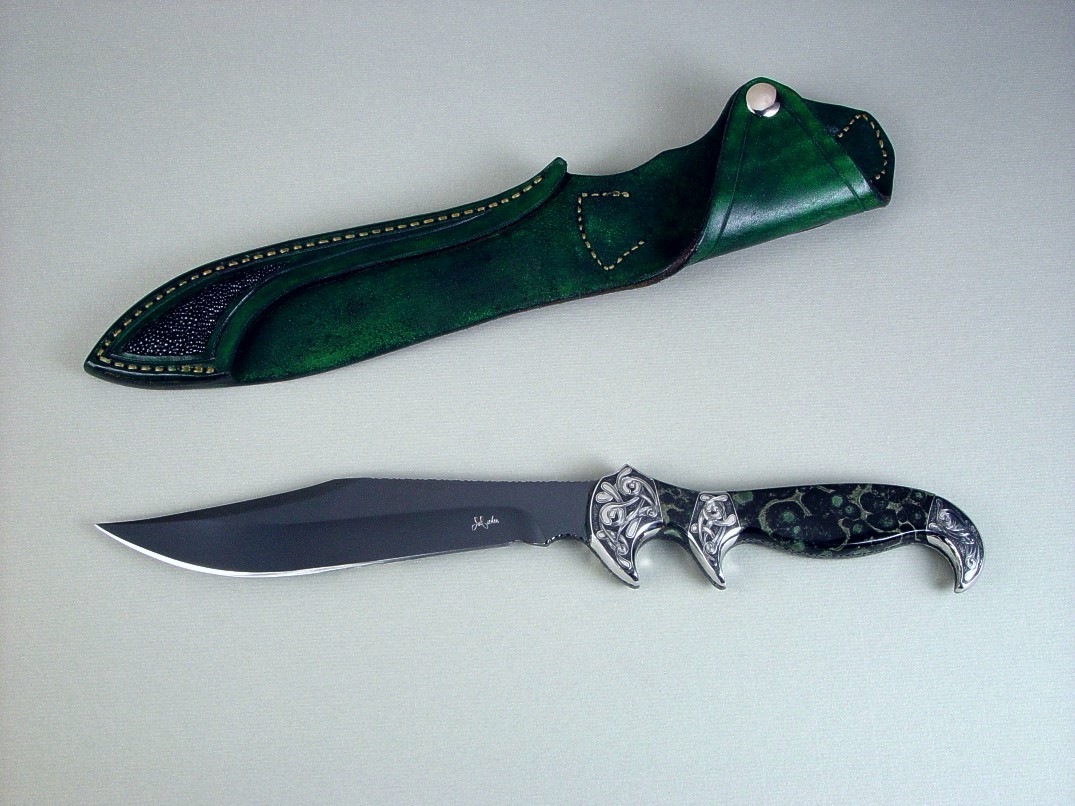 "Ladron" Custom Knife
Size: Length overall: 13.375" (33.9 cm), Blade Length: 7.5" (19.1 cm), Thickness: .172" (4.4 mm)
Weight: Knife: 15.0 oz. (425 grams) Sheath: 5.6 oz. (159 grams)
Blade: O1 High Carbon Tungsten-Vanadium Tool Steel, Hardened and Tempered to Rockwell C59, mirror polished, hot blued
Bolsters, Fittings: Hand-Engraved 304 Austenitic Stainless Steel
Handle: Nebula Stone Gemstone
Sheath: Black Stingray Skin Inlaid in hand-carved Leather Shoulder
Knife: The Ladron pattern is named for a singular haunting mountain in south-central New Mexico, a place that is rumored to be the resting place of several buried treasures. The name Ladron is Spanish for "The Thief" and no modern historian knows how it got the name. My Ladron pattern is inspired by this mysterious place. This particular custom Ladron has an elegantly shaped bowie style blade, mirror polished and hot-blued for a rich and glassy black finish throughout. The hollow grinds are deep and well-matched, and the clip at the point has a clean swage to set off the blade geometry. The blade has a full tapered tang and is fully fileworked with a regular, light, and clean pattern and the spine is cold-blued to match. The handle is extremely rare Nebula Stone gemstone, which comes from one source in the world and is a newly discovered gem of Acmite, Riebeckite, Anorthoclase, Zircon, and Quartz, never before known on this planet! This is actually the second knife ever made with this handle material (see the first knife in the world ever made with a Nebula Stone handle here), and the very first custom knife to have a Nebula Stone handle. The Nebula Stone gem is tough, heavy, and has a bright lustrous polish, with bright green nebula-like orbs floating in a black space with rings of green ribbons shaped like the material that explodes from new stars. This knife has two pairs of Nebula Stone handle scales tightly bedded between dovetailed bolsters of zero-care high nickel, high chromium 304 austenitic stainless steel bolsters, which I meticulously hand-engraved with a Nebula-like pattern of swirling, exploding bodies to keep with the flavor and appearance of the gemstone knife handle. The knife feels comfortable and smooth in the hand, with the balance point just at the sculpted forefinger groove.
Sheath: My client requested one of my display type knife sheaths; this one is heavy 9-10 oz. leather shoulder, hand-carved and tooled, dyed green, and has nice panel inlays of glassy black Stingray skin, even in the formed belt loop. The sheath is hand-stitched with polyester sinew, lacquered and sealed, and has a nickel plated steel snap for flap retention that displays some of the beautiful features of the knife, while protecting the point and the razor edge.
A truly unique and stunning knife.
Thanks, D. T.!
I have to confess I was so smitten by your site's Nebula stone Ladron picture that I had to show it to someone who would appreciate its beauty. I e-mailed it to Ron and Karen with a note that I think of you as Vulcan in his smithy creating art objects for the ancient gods, but with a few slipping away to us lesser mortals. They in-turn think of you as a genius in your medium.
Short version, I absolutely love the beauty, feel, grip, balance, edge, carving..., of the Nebula Ladron. The sheath for the knife is drop-dead gorgeous . You are truly today's genius in creating knives for aesthetically pleasing beauty or for combat.
Believe me, as a patron, I am grateful to own my Jay Fisher Collection at these prices!
Best regards,
D.T.
---
---