Last Chance LT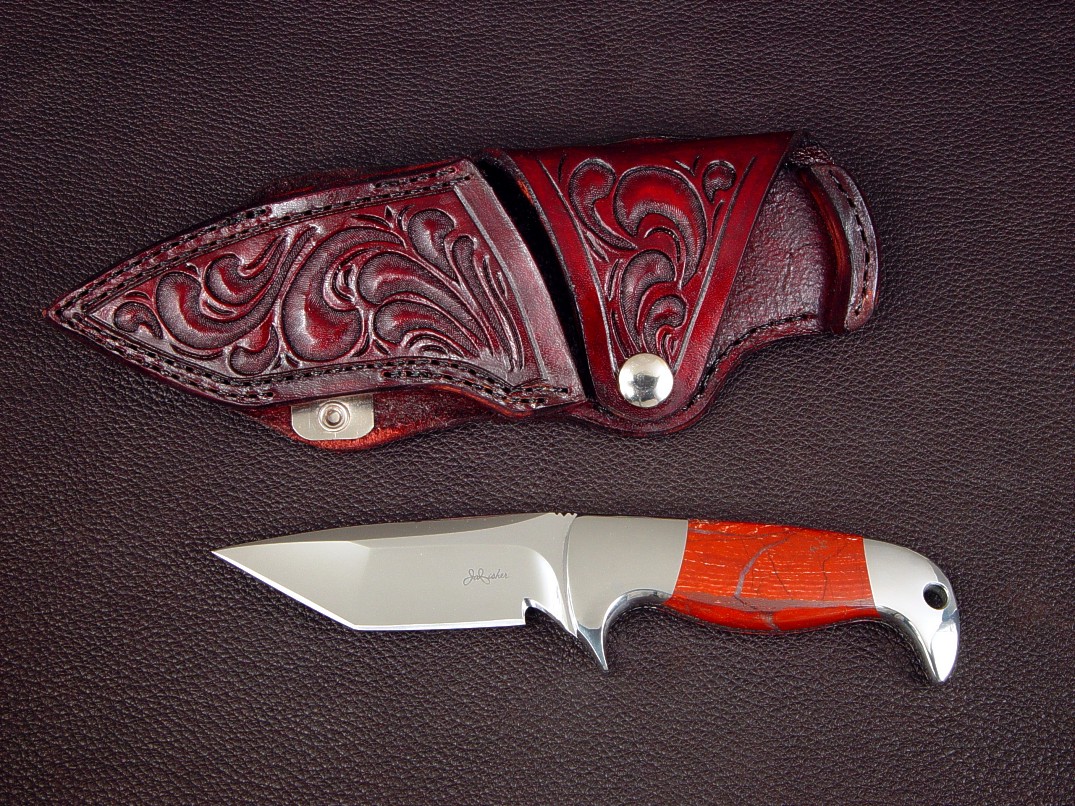 Last Chance LT (Light)
Size: Length overall: 8.0" (20.3 cm), Blade Length: 3.5" (8.9 cm), Thickness: .189" (4.8 mm)
Weight: Knife: 8.5 oz. (241 grams) Sheath: 5.8 oz. (164 grams)
Blade: 440C High Chromium Martensitic Stainless Tool Steel, Hardened and Tempered to HRC58, Mirror Polished
Bolsters, Fittings: 304 Austenitic Stainless Steel
Handle: Snakeskin Jasper Gemstone (Australia)
Sheath: Hand-carved Leather, Nickel Plated Steel
Knife: This fine handmade custom knife was based on the original "Last Chance" knife pattern, which was adapted in this knife to create a smaller, more compact, yet seriously stout and strong knife, suitable for daily carry and use. The blade has a strong tanto geometry, with several deeply hollow ground cutting edges yielding an acute point and keen secondary razor sharp edges. The blade spine has a full length top swage to reduce point profile without sacrificing strength through the axis, and the blade grind is terminated with a sharp line cutter for quickly snagging monofilament and small line to sever it. The knife has a full tang, is one solid piece of high chromium stainless tool steel from tip to butt, and the tang is fully tapered for balance with an aggressive full filework pattern throughout. The handle has deep quillons to guard and secure the hand, and is bolstered with zero-care 304 high nickel, high chromium stainless steel. The rear bolsters have a 1/4" through-tang lanyard hole for additional security. The polished bolsters are dovetailed and bed a pair of bright red Snakeskin Jasper gemstone handle scales from Australia. This stone is extremely tough and very hard, and will well outlast the knife. I polished it to a bright, glassy finish. Veins of gray metallic hematite run through the red jasper which has some brighter cream-colored layers and some milky quartz agate seams. The knife feels solid for its compact form, and the balance point is right at the front bolster dovetail-to-scale junction.
Sheath: My client requested a very special sheath, one that is certainly not my normal fare, but unique and useful was my objective. He wanted a sheath that could mount horizontally on his belt, securing the knife solidly, yet have the capability to remove the sheath without uncoupling and pulling his belt from the pants loops. I created a double belt clip arrangement with nickel plated steel belt clips solidly mounted to the smooth sheath back, with secure retention that will not fall off, yet is easy to remove with the finger. The clips can straddle a belt loop or mount anywhere along the belt line in horizontal fashion. In fact, with this arrangement, the sheath can be mounted in any orientation, even upside down. If mounted on the back belt line, on the right side, the blade edge is down with the point away from the right hand. The knife is secured in the sheath by two means, a flap that is locked with a nickel plated steel snap, and a welt stack that keeps the knife from moving out of the sheath. All the sheath parts are hand-stitched with very tough nylon thread and bonded with waterproof cement. I topped it off with generous and deep hand-carving, highlighted the carving and dyed the sheath a dark maroon color and lacquered and sealed the surfaces.
A great practical knife for use and carry with a unique sheath arrangement.
Thanks, J. C.!
What a fabulous experience it was working with Jay to modify one of his designs into a new model. The communication with Jay was a delight, he was very responsive to my ideas and the depth of his experience is amazing. Both the knife and the somewhat troublesome sheath turned out beautifully and I am, again, proud to be the owner of a Jay Fisher hand made masterpiece. "Brioney", as I have named my Last Chance LT, does every task from the most delicate to the roughest with ease and comfort. The custom fitted handle, the aggressive point and the tanto geometry make any task an easy task. It goes without saying that the mirror polished blade, gorgeously finished gemstone handle and the ingenious and beautiful sheath means that this knife is as good to look at as it is to work with.
Thank you, Jay.
--J.C.
---
---