Malaka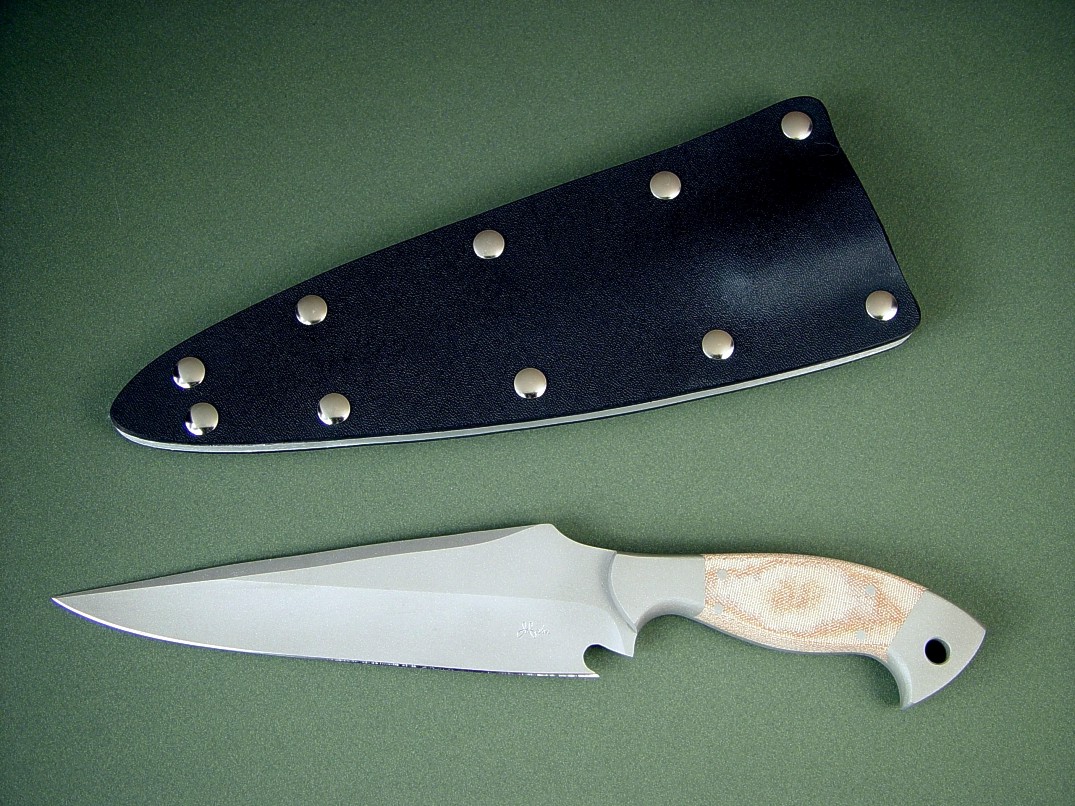 "Malaka" Fine Custom Tactical Knife
Size: Length Overall: 12" (30.5 cm), Blade Length: 7.25" (18.4 cm), Thickness: .198" (5.0 mm)
Weight: Knife: 13.1 oz., Sheath 12.5 oz.
Blade: 440C high chromium martensitic stainless tool steel, hardened and tempered to HRC58
Bolsters, Fittings: 304 austenitic high nickel, high chromium stainless steel
Handle: Canvas Micarta Phenolic
Knife: With input from Navy SEALs and the knife client, the Malaka was designed as a tactical combat knife. The name "Malaka" comes from the Sumerian King of Warriors. This is a serious weapon; with an extremely aggressive point for piercing and plenty of hollow ground, razor-keen hard edge for cutting and slashing. The spine of the knife is very substantial and wide, with a full length top swage for reduced point profile. The blade is 440c high chromium, high carbon martensitic stainless tool steel for great corrosion resistance, and the finish is bead blasted for muted reflection and easy care. The blade has a negative cut choil for distinctive grind termination, and a substantial thumb ramp for control. The tang is fully tapered for perfect forefinger weight balance, and the handle has plenty of belly for a tight, secure grip between the quillons. The handle is reinforced with 304 stainless steel zero-care pinned and peened bolsters, that are dovetailed for a perfect fit with the natural canvas micarta phenolic tough handle scales. The scales are bedded and secured with four .125" 304 stainless steel pins, and the rear bolster is wide and strong, with a bit of a point for CQB, and a through tang 5/16" lanyard hole for security.
Sheath: A knife this serious needed a substantial sheath, so I constructed this one of double-thickness kydex, thermoformed over 5052H32 corrosion-resistant aluminum frame welts, secured with nickel plated steel Chicago screws and with aluminum 1.75" aluminum die-formed belt loops.
This is a serious tactical combat knife.
Thanks, B. M.!
Today I received another functional great knife and kydex sheath...Outstanding.
--B. M.
---
---