Mercurius Magnum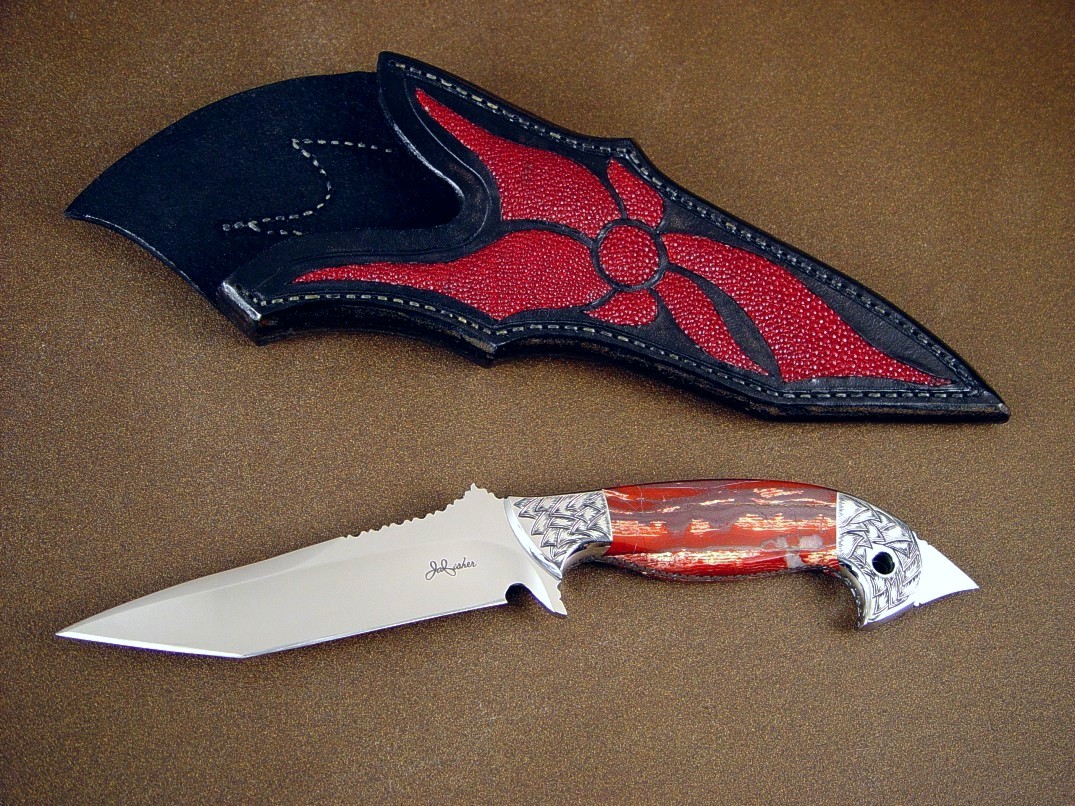 Mercurius Magnum Tactical Art Knife
Size: Length overall: 10.5" (26.7 cm), Blade Length: 5.25" (13.3 cm), Thickness: .190" (4.8 mm)
Weight: Knife: 11.4 oz. Sheath: 6.6 oz.
Blade: 440C High Chromium Martensitic Stainless Tool Steel, Hardened and Tempered to Rockwell C58, Mirror Polished
Bolsters, Fittings: 304 Austenitic Stainless Steel, Hand-engraved
Handle: Australian Snakeskin Jasper Gemstone
Sheath: Hand-carved Leather inlaid with Stingray skin
Knife: A striking knife with bold tanto lines, tough and bright gemstone handle, and an artistic matching sheath: Mercurius Magnum's roots are in my Mercury knife, a tactical knife design made and used by Special Weapons and Tactics team members. The design is a stout tanto blade, in brightly polished hollow ground 440C high chromium martensitic stainless tool steel, thin at the main edge and razor keen. The secondary edge at the point has good piercing geometry, with an aggressive angle and good cross-sectional thickness. The blade spine has a half-length top swage, a significant thumb rise for control, and a clean, blended choil for an accurate edge termination. The hollow grinds are deep and nicely matched at the grind terminations, some of my best. Behind the choil is a good length of quillon to prevent the finger from sliding forward, and the fully tapered tang is completely fileworked in my bold and deep "bat ears" pattern. The handle curvature is comfortable and locks well into the hand, and the weight is balanced at the middle finger so significant mass can be applied at the persuader. Also known as a skull crusher, this non-edged point at the rear bolster is part of the full tang, and is becoming more popular on defensive tactical knives to "persuade" opponents along (submitted by SWAT professionals). The meaty rear bolster has a 5/16" through-tang lanyard hole for security, and a nice quillon to apply hammer force at the persuader. I wanted to handle this knife with something special, so I chose Red Snakeskin Jasper from Western Australia for the gemstone handle material. This stone is hard, tough, and solid, with veins of red metallic hematite and quartz running through and across the layering. The tough jasper is smoothly and brightly polished and bedded to dovetailed bolsters of 304 austenitic stainless steel, a high nickel, high chromium stainless steel that will last indefinitely, and never tarnish. I hand-engraved a scale-like motif reflecting the geometry of the persuader and complimenting the Snakeskin Jasper. This gemstone and stainless beauty feels just right in either traditional or defensive grip style with the thumb laid across the persuader curve.
Sheath: The sheath had to be a stunner on this one, so I went for an artistic motif of inlaid Red Stingray Skin in 9-10 oz. leather shoulder, 17 pieces, arranged in a complimentary pattern set in the hand-stitched, black dyed, lacquered and sealed leather. The sheath echoes well the shape and features of the knife at the persuader and the tanto point, and is smooth, rounded at the edges, and nicely fitted to just this knife. The Stingray skin is very hard and tough, actually interlocking bony plates. A difficult piece to execute, but I love how this one works.
A beautiful ensemble that packs a visual and tactical punch!
Thanks, P.K.!
Hello, Jay!
Received the knife on Tuesday; it is perfect in every way. I still cannot figure out how you come up with so many different designs that you carve on the edges!
--P.
---
---