Oceana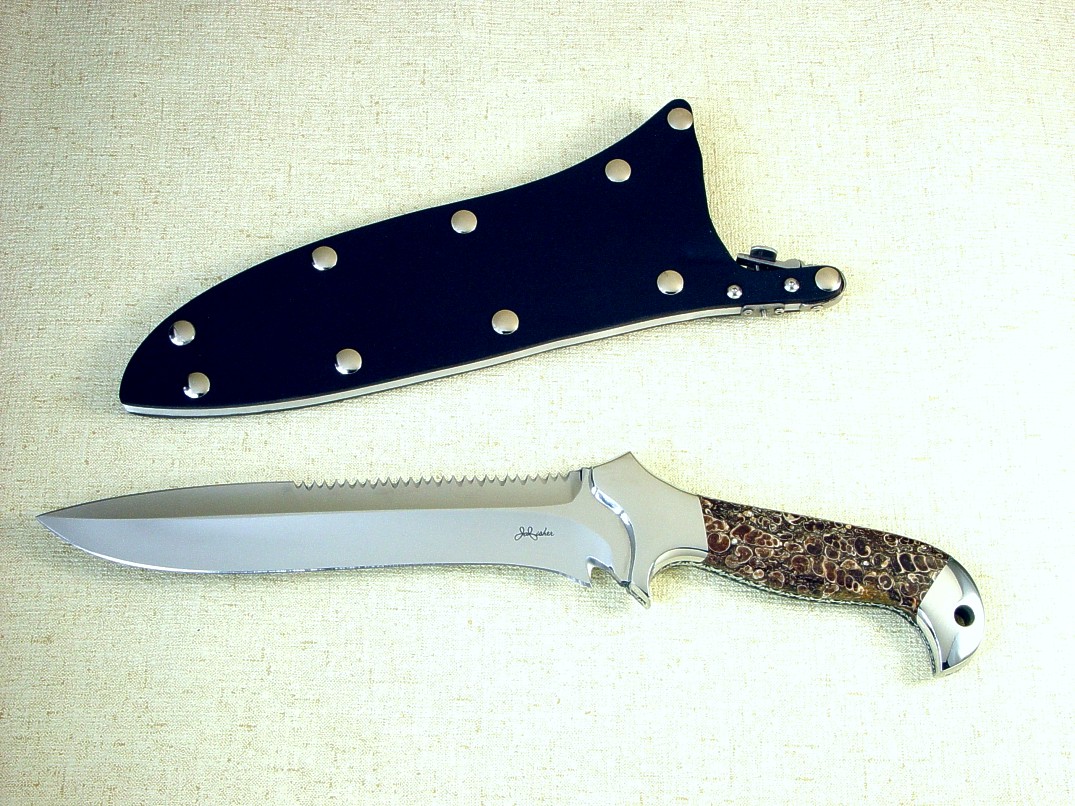 "Oceana" Tactical, Art, CSAR, Dive Knife
Size: Length Over All: 14.25", (36.2 cm) Blade Length: 8.75" (22.2 cm), Thickness: .250" (6.4 mm)
Weight: 1 lb. 3oz. (539 grams)
Blade: 440C high chromium stainless tool steel, hardened and tempered to 59HRC
Bolsters, Fittings: Sculpted 304 austenitic high nickel-chromium stainless steel
Handle: Turitella Agate Gemstone
Sheath, Tension: Double Layered Kydex, 5052H32 Aluminum, nickel plated steel Chicago screws
Sheath, Locking: Double Thick Kydex, 5052H32 Aluminum, 302, 304, 416 stainless steel mechanism, nickel plated steel Chicago screws
Knife: Oceana was designed by a client who wanted a very fine, investment grade tactical CSAR dive knife. The answer was the very elaborate and complicated Oceana. The design is based on my Treatymaker double-edged pattern, with a main grind done with a 10" contact wheel and the differential top grind accomplished with a 3" contact wheel for a very thin cutting edge without sacrificing internal spine strength. The top edge has a 4 inch length of my vampire rip teeth serrations, for the toughest sawing and ripping chores. At the bottom edge, I've included a .250" line cutter for that stubborn monofilament. The blade is completely mirror finished, for a easy care, corrosion resistance, and a stunning look. The bolsters are sculpted 304 high nickel, high chromium austenitic stainless steel for zero care and ultimate corrosion resistance. The rear bolster has a full, deep "hawk's bill" rear quillion for secure handling in either traditional or tactical grip, and has a 5/16" through-tang lanyard hole for the ultimate in security in wet environs. I've carved the blade with my stunning Sun-Moon filework, to help secure the grip and add a lot of visual interest and punch. The handle material must match the theme, so we agreed upon Turitella Agate fossil; petrified sea bed turned to agate and chalcedony gemstone by the hand of God. It's techically fossilized 70+ million year old Spiral Pelecypod and Oxtrema seashells, translucent chalcedony gemstone from Wyoming.
Sheaths: I made two sheaths for this monster knife, one of my fully waterproof stainless steel, kydex, and aluminum locking sheaths and a tension sheath that will be easier to manipulate. Both sheaths have double-thickness kydex over a 5052H32 corrosion resistant, high-strength aluminum alloy frame secured by nickel plated steel Chicago screws, and the locking sheath has all stainless steel components including springs, lock tangs, and machine screws. Both have reversible aluminum belt loops for a variety of wear options.
Thanks, M.B.!
Hello Jay,
I received my knife yesterday, and I am astounded at the workmanship and beauty of my knife! Are you sure you charged me enough? The file work is the one touch that really sets it off.....I'm still trying to figure out just "how did Jay do that!?" I do feel bad it caused you a few stitches...I can tell you one thing....it is dangerous to grab it without clear intent! You were not just talking when you said it had aggressive points everywhere:)
It is a piece I will treasure, and even though it should be put under glass, I will carry it on my diving and flying adventures.
Your friend,
M.B.
---
---