PJLT Custom Tactical CSAR Knife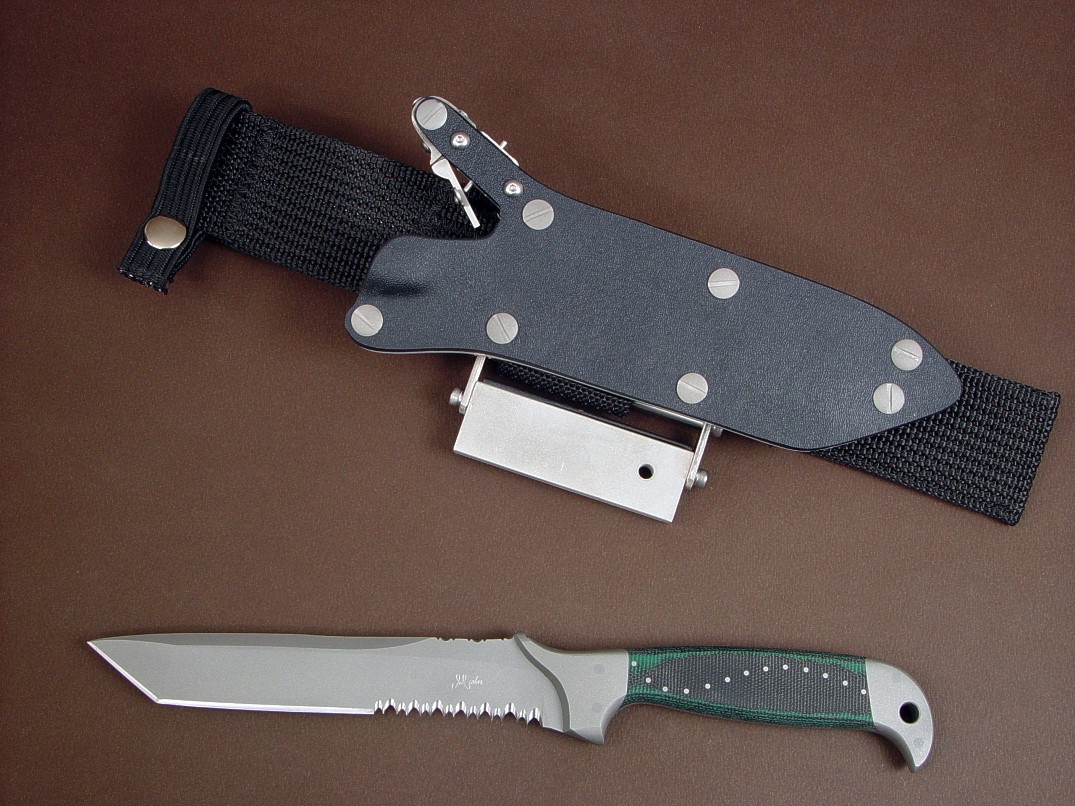 "PJLT" Custom Tactical CSAR Knife
Size: Length overall: 11.125" (28.3 cm), Blade Length: 6.25" (15.9 cm), Thickness: .192" (4.9 mm)
Weight: Knife: 9.5 oz. (269 grams) Sheath (with extender and accessories): 15.7 oz. (445 grams)
Blade: 440C High Chromium Martensitic Stainless Tool Steel, Hardened and Tempered to Rockwell C58, Bead Blasted
Bolsters, Fittings: 304 Austenitic Stainless Steel, Bead Blasted
Handle: Green and Black Layered Canvas Reinforced Micarta Phenolic
Sheath: Locking, Kydex, Aluminum, Stainless Steel
Extender: Polypropylene, Nylon, Diamond Pad Sharpener, Firesteel-Magnesium block fire starter
Knife: Custom made for a great client, this is my popular PJLT tactical Combat Search and Rescue knife pattern, my most popular knife for a reason. Built for usefulness, practical response, and unequalled durability, the PJLT is a favorite with many units, though originally designed for United States Air Force Pararescuemen. This one is going to a great Seabee, for his extreme and long-term use. The PJLT tanto blade is stout and hollow-ground for a low relief angle and a very sharp single bevel cutting edge. I included 2" of my deep "vampire" serrated rip teeth for the most stubborn cutting chores and a two-thirds length top swage for reduced point profile. The 440c high chromium, high alloy martensitic stainless tools steel is my most requested tactical knife steel, because it's hard and wear resistant and has very high corrosion resistance through many exposures, even in salty marine environments. The spine and handle tang are fileworked with a nice, clean, and complimentary pattern that offers a bit more purchase and a touch of handmade flair. The bolsters are zero care, extremely highly corrosion-resistant 304 high nickel, high chromium austenitic stainless steel as are the thirteen 1/16" pins arranged in a wavy pattern on the handle. The handle scales are neat too, in canvas reinforced micarta phenolic, in layers of green and black that show off the contours of the comfortable handle with some nice visual punch. The bolsters are also contoured, and the front bolster extends up the blade spine to create a useful and classy thumb ramp, and the rear bolster has a 1/4" chamfered through-tang lanyard hole for security. This knife feels great in the hand, with the balance point right at the forefinger position in forward grip style. The fully tapered tang has no filework in the belly, and the handle is smooth and solid in the hand. To top this piece off, I engraved my client's initials in the hollow grind of the blade in Old English, with a clean rotary diamond engraver cutting into the hardened stainless tool steel.
Sheath 1: I included one of my fine locking, waterproof tactical sheaths on this knife; it has double-thickness kydex over a 5052H32 corrosion resistant, high-strength aluminum welt frame. The sheath has all stainless steel locking components for low-care and high usability with security. The sheath is secured with stainless steel machine screws and bead blasted stainless steel Chicago screws. 1.75" wide belt loops are included in die formed in high strength aluminum, and are reversible as well as able to be relocated to the lower screw set on the sheath for inverted, upside-down, reversible, versatile wear on a belt, PALS webbing on tactical gear, or any type of strap or web.
Ultimate Extender: I included an additional option: my ultimate sheath belt loop extender with full accessory package. This allows a lower, more traditional placement of the locking sheath on the belt, and will accommodate thicker belts and belts up to 2.5" wide, and includes the anti-flop shock cord with nickel plated steel snap retention, the diamond pad sharpener, and the magnesium-Firesteel fire starter. Learn more about these useful accessories here.
Sheath 2: My client requested one of my classic tension fit kydex sheaths in addition to the locking sheath. It's made of double-thickness kydex on the face and back, 5052H32 high strength, corrosion-resistant aluminum welt frame, nickel plated steel Chicago screws, and die-formed, high strength aluminum belt loops. This sheath is deep, and uses tension to grip the knife in place at the front bolster. The belt loops are reversible, as well as able to be moved in three positions, high, mid, and low, on the sheath for a variety of wear options, very handy when wearing the sheath on PALS webbing on tactical combat gear as well as belt use.
This is a very tough knife and sheath, the same model carried by USAF Pararescuemen, law enforcement, and professional rescue technicians in combat and emergency rescue operations. A great ensemble!
Thanks, V. M.!
Jay,
Just wanted to drop you a quick line. I picked up the knife from fed ex last night and everything is there. Your work is superb! This thing is very light and fast in the hand I cant wait to get it into action. Some people think I am crazy for spending so much on a blade, but in the end knives are worth every penny! Especially if you carry one as your back up weapon and your primary cutting tool into an environment where it must work. Thanks again for your superb work again! Great job!
Vic
---
---