Pallene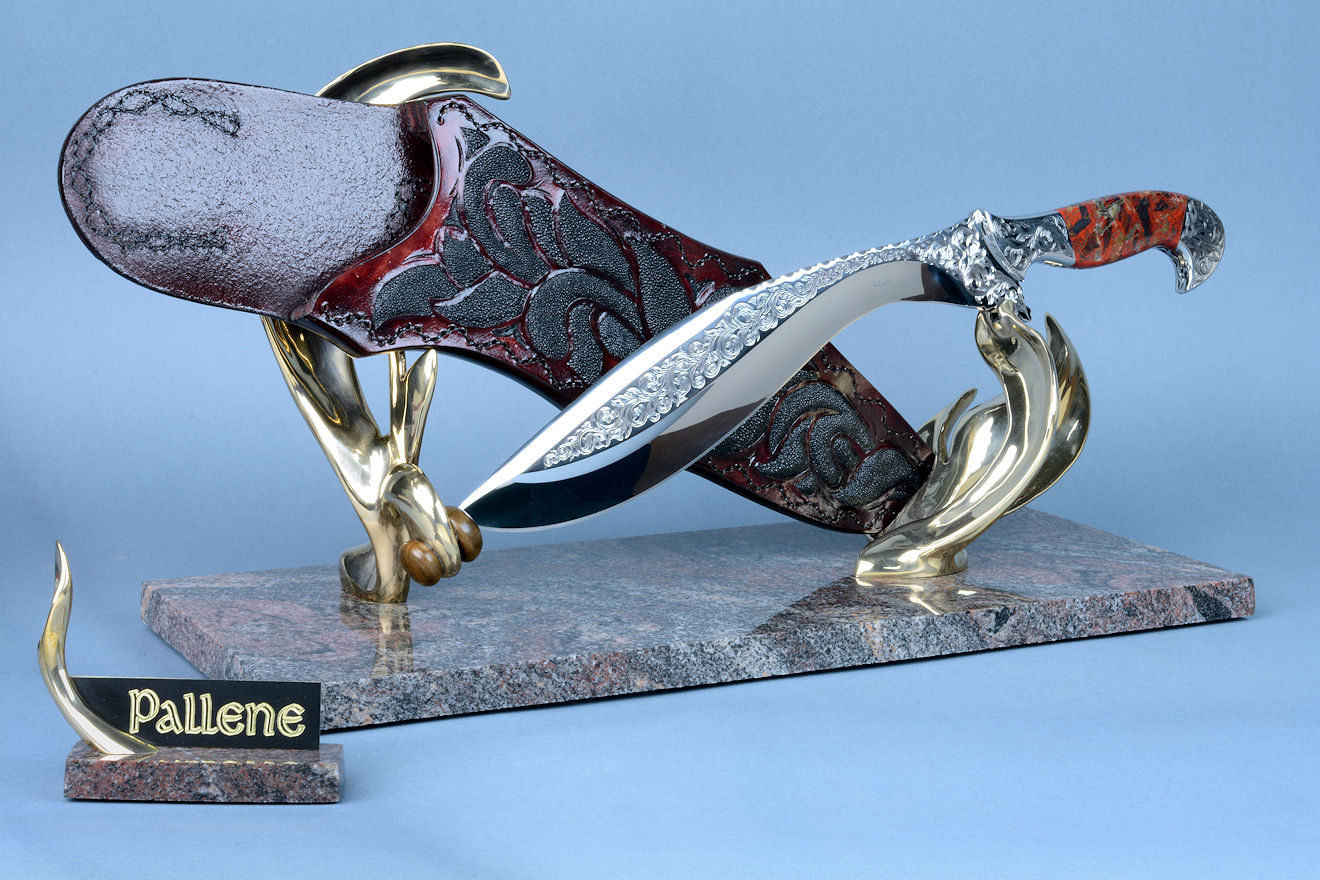 "Pallene" Custom Knife Sculpture
In Greek mythology, Homer wrote about a race of giants that was born of the earth, a mere 100 that would battle with the Olympian gods. One of the great battles of this mythology happened on the westernmost peninsula of the headlands of Chalcidice, known as Pallene, on the Aegean sea . This land was known also in ancient times as Phlegra. While the land today is a pastoral farmland of small towns, the ancient battle and giant warriors were the inspiration for my Pallene, a custom made knife sculpture for an admirable client.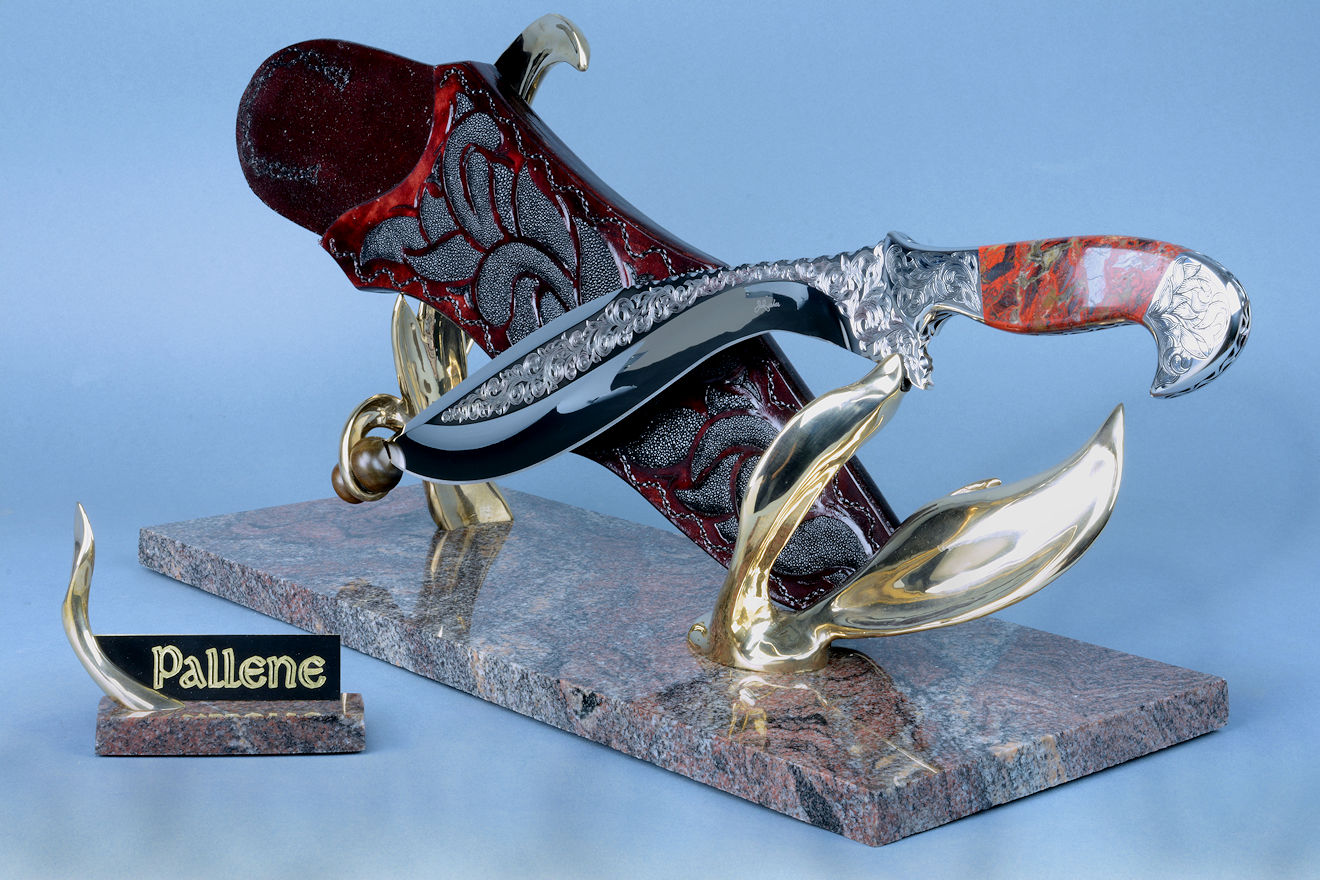 The inspiration for this piece was Homer's ancient tale, and my client requested a knife made in my popular Phlegra pattern, thus the connection to Pallene. In contemporary times, we call this style of knife a "khukri" based on its similar shape to the Nepalese weapon and tool, but the design of the large, heavy-fronted recurve blade with a smaller neck near the ricasso is a very ancient one, originating in similar shape to an Egyptian kopesh and comparable to the yataghan, which can be traced back to Bronze Age Luristan. Conceptually, one could imagine a mythical giant wielding this substantial piece, and it was an honor to be able to make this one in a high art form.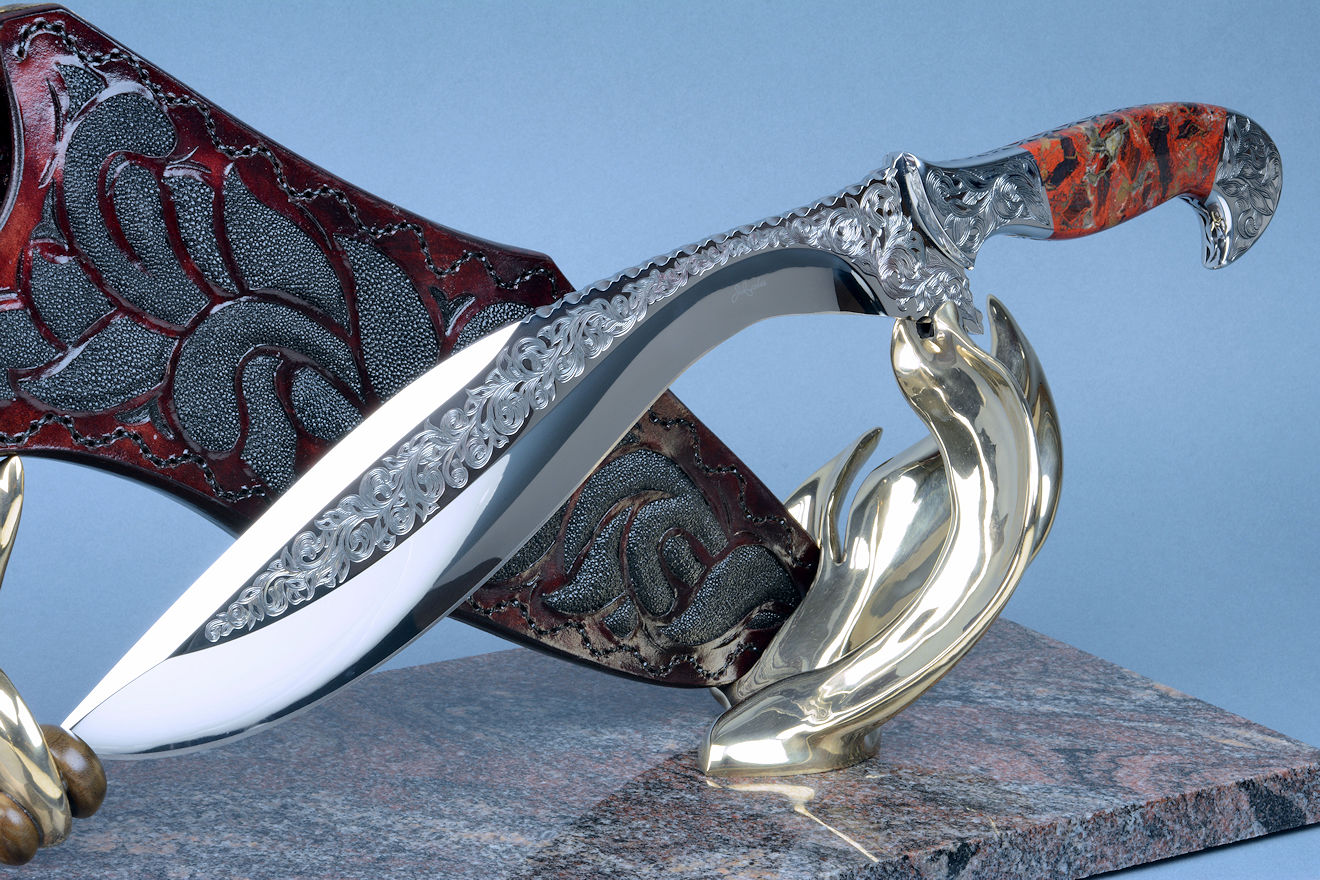 The reason the blade is an effective one is because the shape allows a more natural position of the wrist, a weighty belly and plenty of mass behind the point, and a center of percussion far forward of straighter blades. The curves of this blade are both convex and concave, a difficult piece to make well. My client chose a premium material for this piece, and I made the blade in CPM154CM. This is a powder metal technology tool steel, a high technology version of ATS-34, an extremely tough, durable, highly wear resistant and corrosion resistant hypereutectoid stainless steel. This blade was a challenge to make, not a work for the timid. It's deeply hollow ground, with a complex double concavity at the recurve area, creating a devastatingly sharp cutting edge leading to the wide, rounded belly that is supported with a substantial flat and spine. The point and belly are thick and strong, and the top length of swage reduces the point profile to a highly aggressive yet elegant form.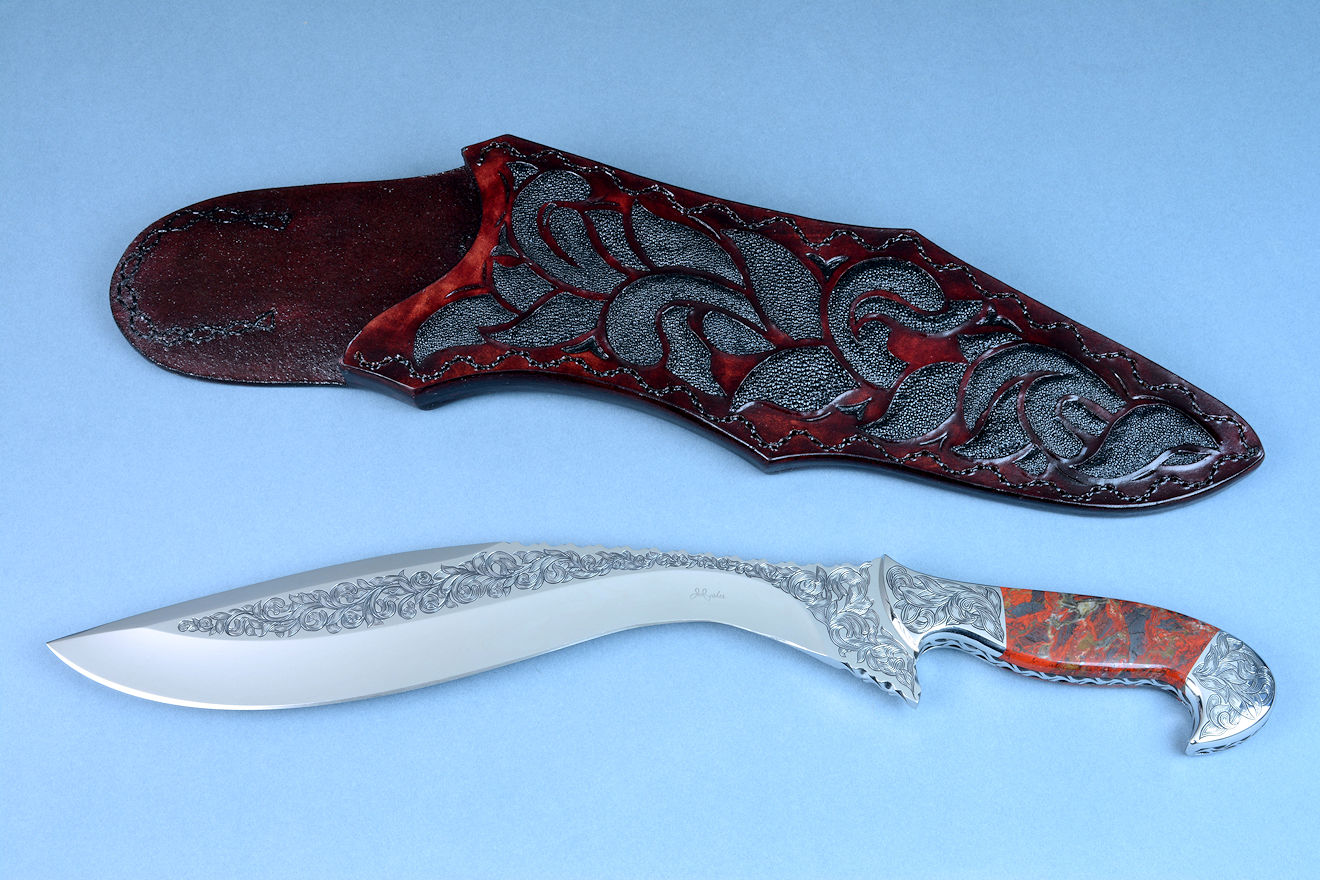 This is not a steel blade for the timid, and to top it off, I fully hand-engraved the flats of the blade with a lively and deep leafy and tendril pattern in a bold style. This is a good deal of engraving, as the blade alone (without the handle) is 13" (33 cm) long and 2.5" (6.4 cm) wide. I incorporated a very deep and texture-rich filework to match the style in an intense vine pattern, fully surrounding the blade.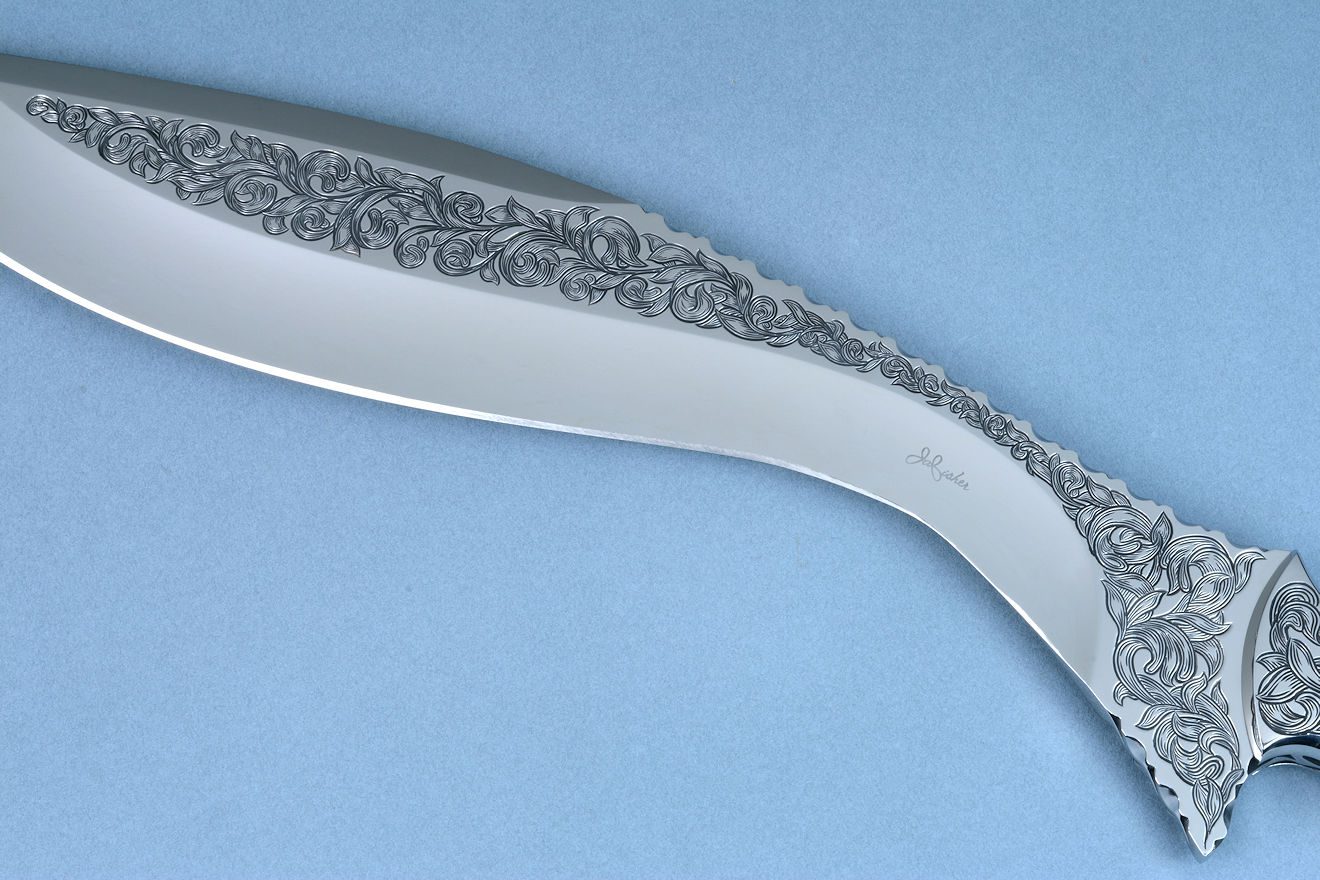 I wanted the blade to be the absolute best it could possibly be, so I heat treated it with my full cryogenic processing, followed by triple tempering and cryogenic cycling for the highest development of desirable steel allotrope (tempered martensite and sub-microscopic iron carbide, chromium carbide and molybdenum carbide) formation with excellent stability. This is quite a process, particularly considering that weeks of labor were put into the blade (grinding, finishing, and engraving) before heat treatment. One error in my heat treatment regime would have been disastrous, so a lot was riding on my process. I was very careful, knowing that less than one thousandth of an inch of steel could be removed in the post-heat treatment finishing process or the design would be ruined. It worked out as excellent as it can possibly be, and I set the final hardness at 62C Rockwell, a very hard and wear-resistant temper for this blade. With the high molybdenum, superior toughness at this high hardness, the advanced cryogenic treatment, and the thick and strong geometry, this is a fantastic blade. The grain of this steel is simply so fine as to not be visible without magnification, one of the most beautiful steels our modern technology can create. The mirror polish in the hollow grinds is ultra-smooth and strikingly uniform, perhaps the best finish possible on modern hypereutectoid alloy steels. You can tell I'm very proud of this work of steel, and know my patron will be, too.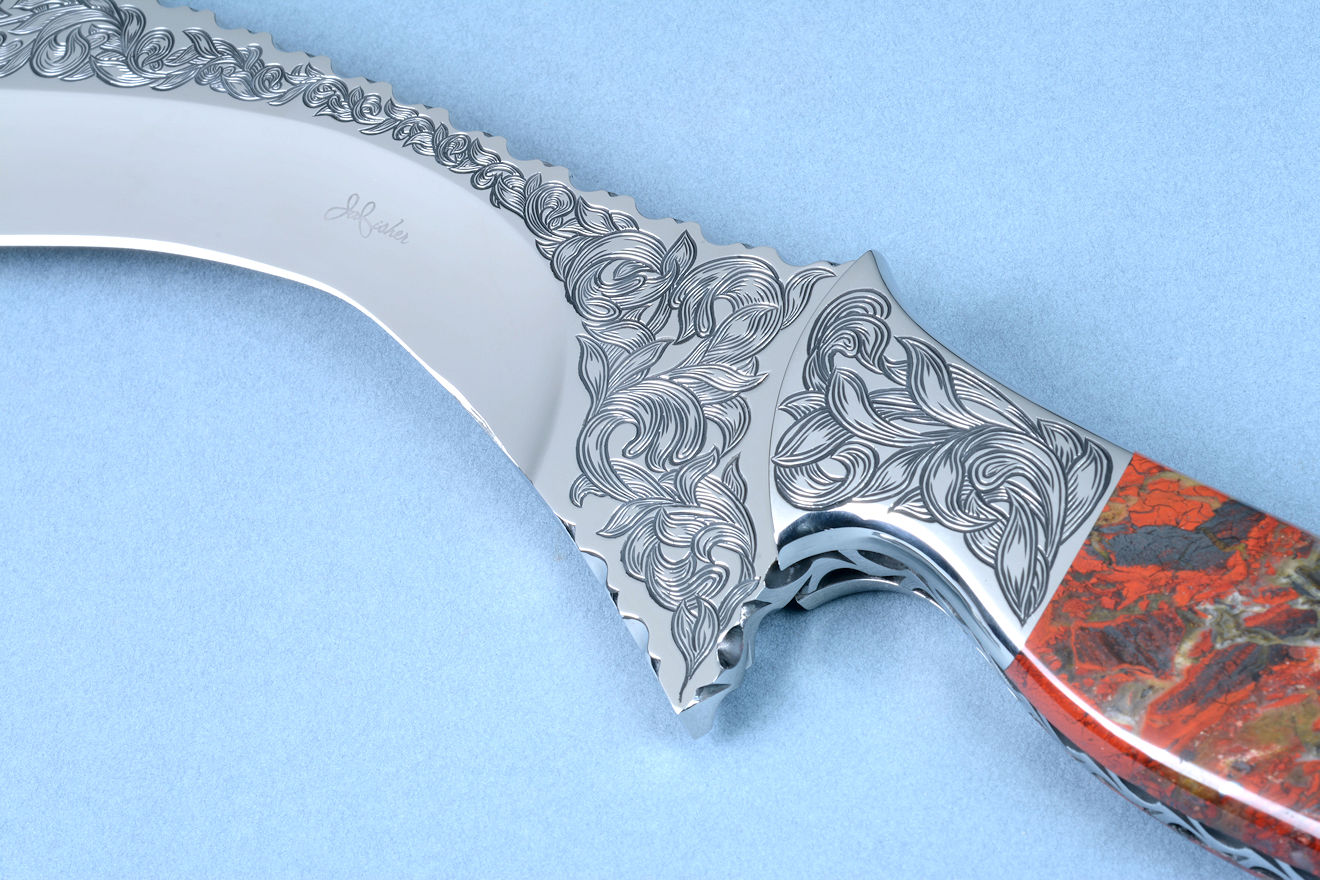 After the blade finishing, I mounted substantial large bolsters of austenitic zero-care high chromium, high nickel 304 stainless steel, contouring, rounding, smoothing and polishing their surfaces, and engraving them with a continuation of the leafy vine pattern on the blade. The bolsters are the same steel used in stainless steel nuts, bolts and fasteners (also known as 18-8 for the 18 percent chromium and the 8 percent nickel in the alloy). This material is very tough, extremely durable, and requires no care whatever, no matter what the exposure, and they match the bright bluish chromium color and beauty of the blade flawlessly. They are dovetailed to bed a pair of striking handle scales with a seamless fit.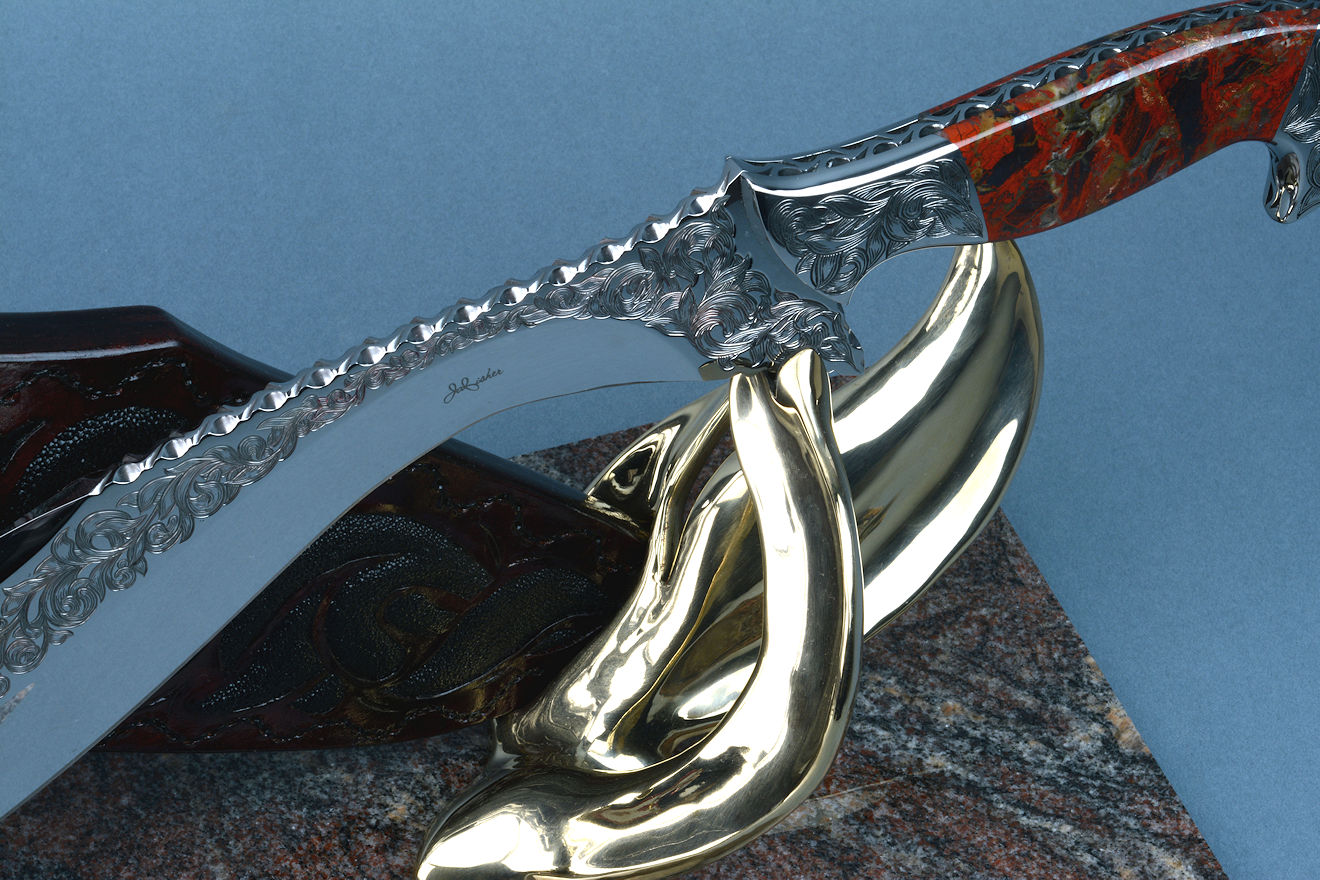 The handle scales are Brecciated Jasper gemstone, a stone that was formed by crushed bits of earlier sedimentary or metamorphic rock that was fused together under the tremendous heat and pressure deep within the earth's crust. The minerals comprising this brecciated jasper are mainly microcrystalline quartz and hematite, both iron-rich minerals that blend together in a rich, dark and visually fascinating pattern. The iron content comes from the very earliest part of earth's history, when the seas were filled with iron. The deposition of sediment created the initial stone which then became the jasper and hematite. The gem comes from the Great Rift Valley (Suguta) in Kenya, Africa, and is very hard, extremely tough and durable, and I've finished it to a high lustrous polish that will outlast the metal of the knife. It's smooth, glassy, and robust in the hand and captivating to look at, even under magnification.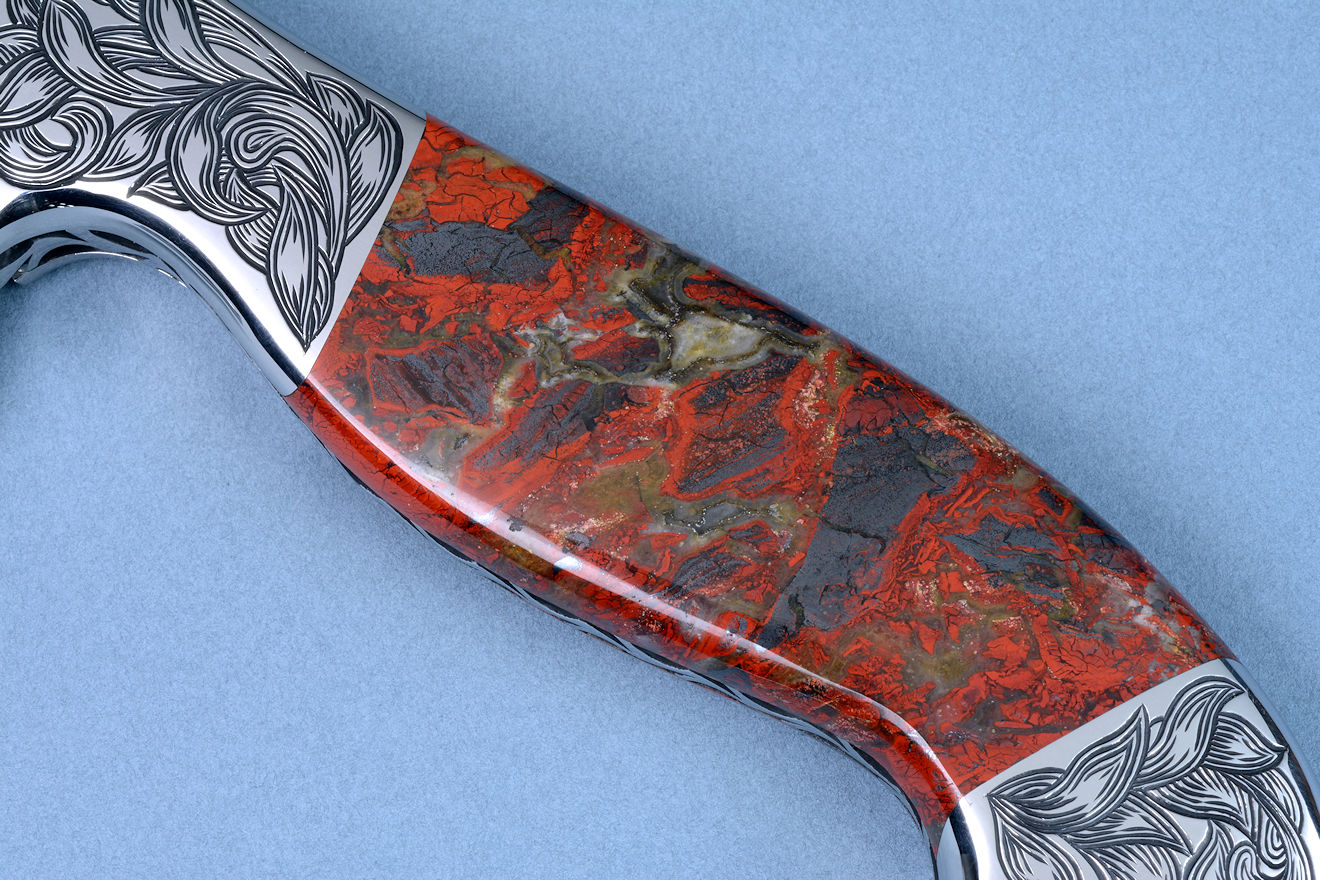 The knife (or short sword) feels particularly hearty and captivating in the hand, and the shape of the handle, the full belly, the heel drop at the rear bolster, and principally the front and rear quillons lock the hand comfortably. In artistic fantasy, this would be a weapon and tool that a giant (or man) would love to have in his battles. In truth, this is a real knife, notwithstanding the extremely high quality of the artistic build. It is stout in form, functional in design, highly corrosion and wear resistant, durable in every way, and is extremely sharp and aggressive, as all knives should be.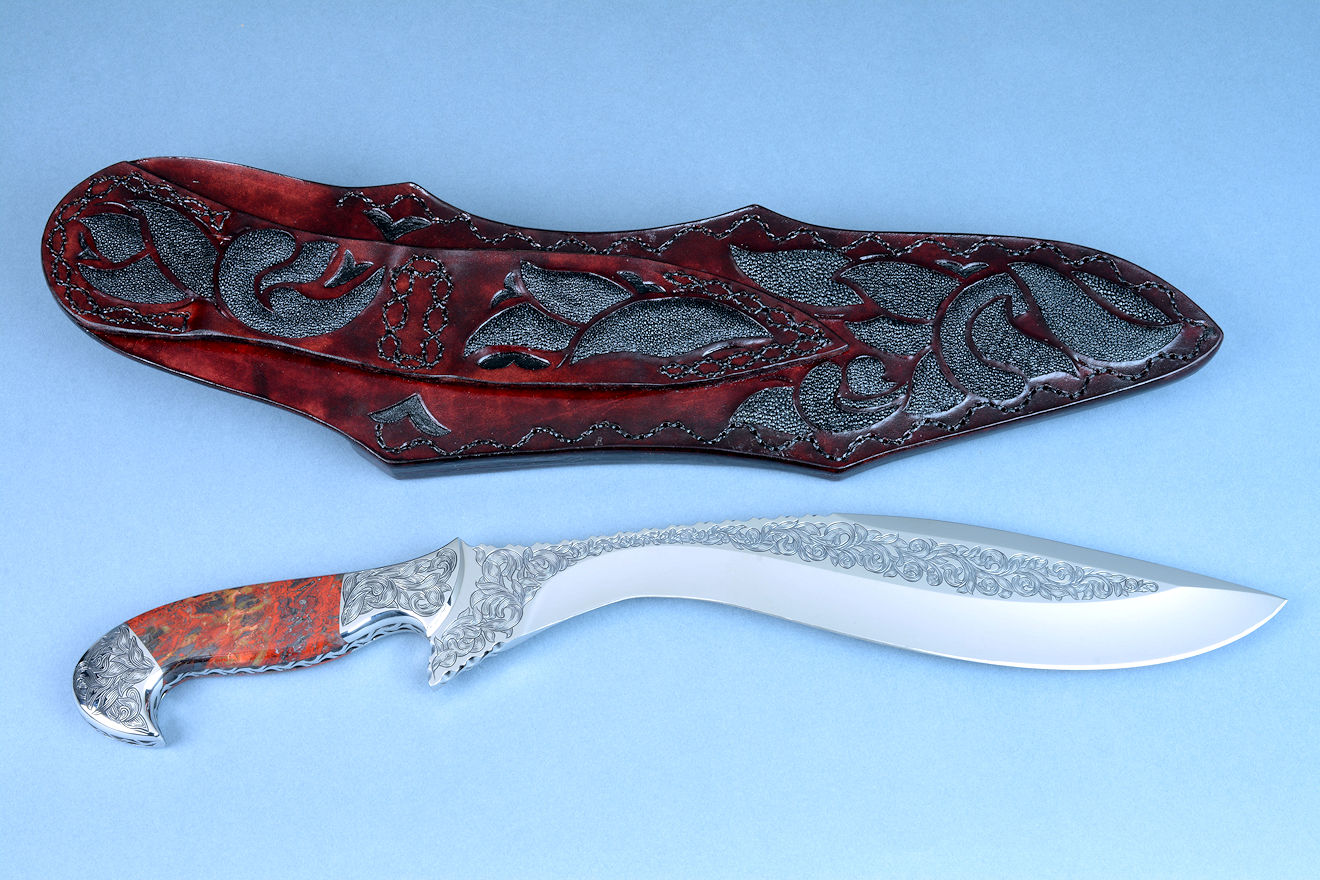 A knife of this quality had to have a sheath of the same standards and quality, so I created what is, to date, the most ambitious and elaborately made exotic inlay sheath I've ever created. The sheath body is 9-10 oz. leather shoulder, and I've dyed it a rich burgundy color that matches the deep red of the handle. I hand-carved the sheath extensively, and it has 43 individual inlays of black rayskin, which matches the dark hematite in the gemstone. That's 23 inlays in the front, 8 in the belt loop, and 12 in the sheath back! The inlay and carved pattern I evolved from the engraved pattern I created on the blade and bolsters. It has leaves overlapping, large vinework, and a flowing cadence with textured accents. The sheath stitching is in black polyester in a wave form, and the belt loop is a double mount type, with double wave stitching for durability. The sheath is sealed with acrylic gloss, and is a work of independent art all on it's own.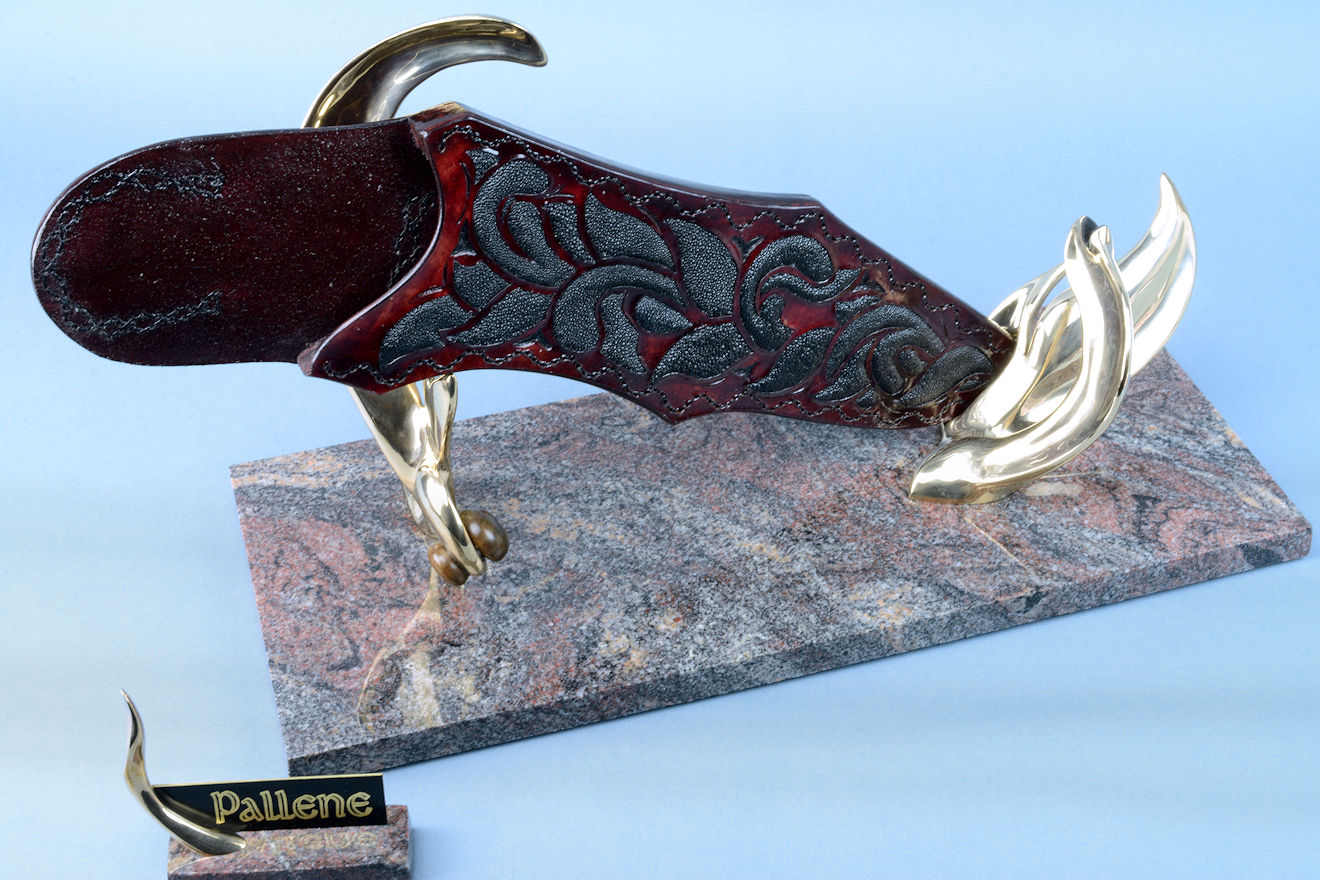 To display the magnificent Pallene, I created a unique and bold sculptural stand, a form that melds with the piece, becomes part of it, and elevates the work to a sculptural peak. I worked with modeling and the visual queues of the form of the curves of the knife profile, the vine and leafwork, and the shape and position of the sheath to bring my idea to form. I sculpted these forms first in clay, then in wax, not once, not twice, but three times to get the models I wanted for this artwork. I created the wax model one time, without a mold or a possibility of reproduction, and cast them in silicon bronze. You can see the details in the photo set below. The wax was sprued, vented, arranged, invested in custom flasks, burned out in a two day cycle, and poured. I then de-sprued, chased, and fettled the castings, bringing them to a high polish and rich luster. This is traditional lost wax bronze casting, and I chose a simple and clean polished look, so the bronze is in its natural color. A heavy coating of wax protects the sculptures, in the ancient and traditional way.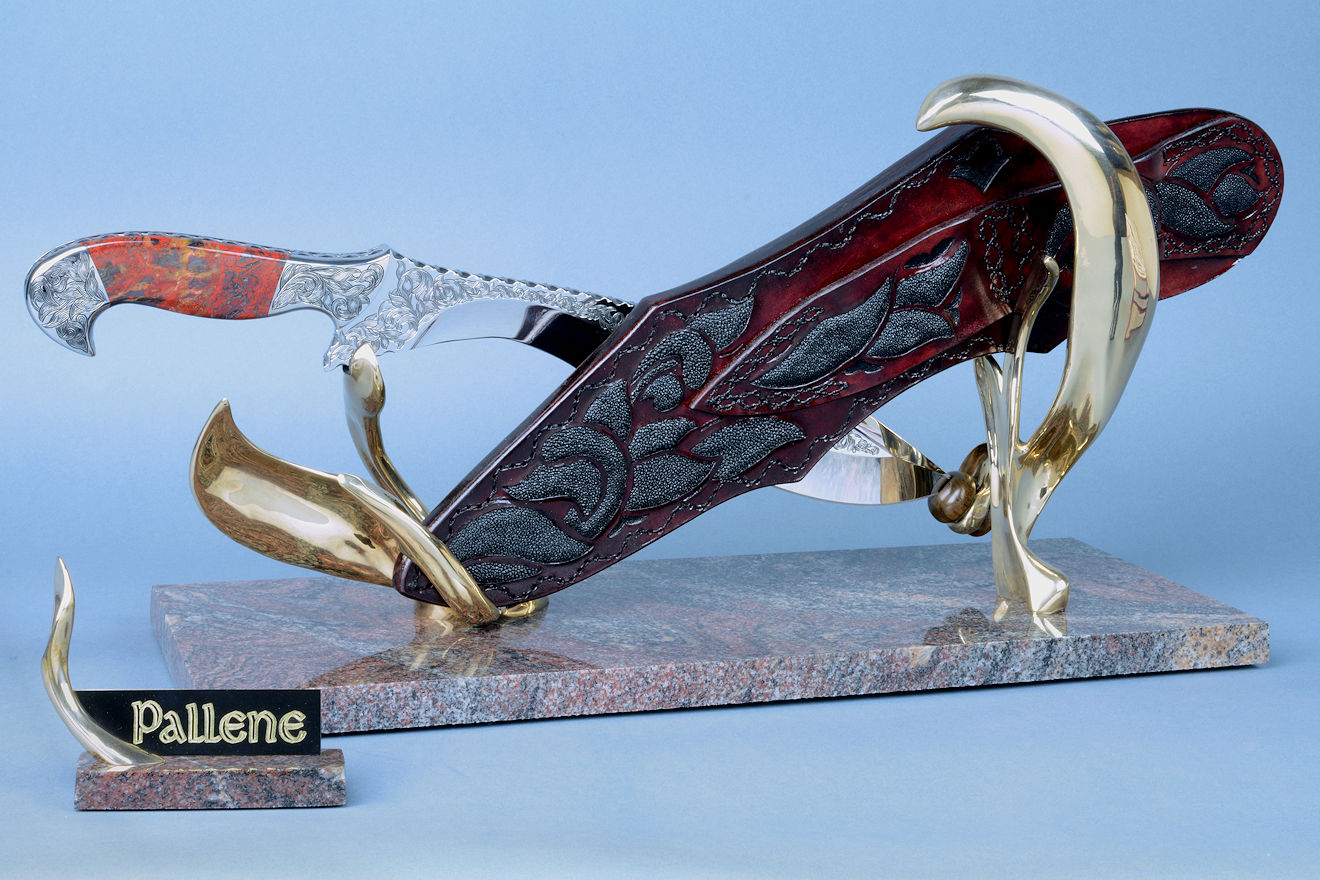 The bronze components are drilled and tapped and mounted to a heavy and beautiful base of Paradiso Classico Granite. This I cut and finished through a regime of diamond wet polishing on the surface and edges to bring out the beauty of this very old and revered stone. This granite is a fine-grained migmatite from the Precambrian, one of the most ancient periods of the earth, and it originates in Krishnagiri, India. The darker part of the granite is biotite mica and horneblende and the lighter parts are quartz and feldspar. The color, banding, and pattern of the stone compliments the knife artwork perfectly, and I mounted inset neoprene rubber feet to the base permanently to protect any surface the piece occupies, since it is massive and stable.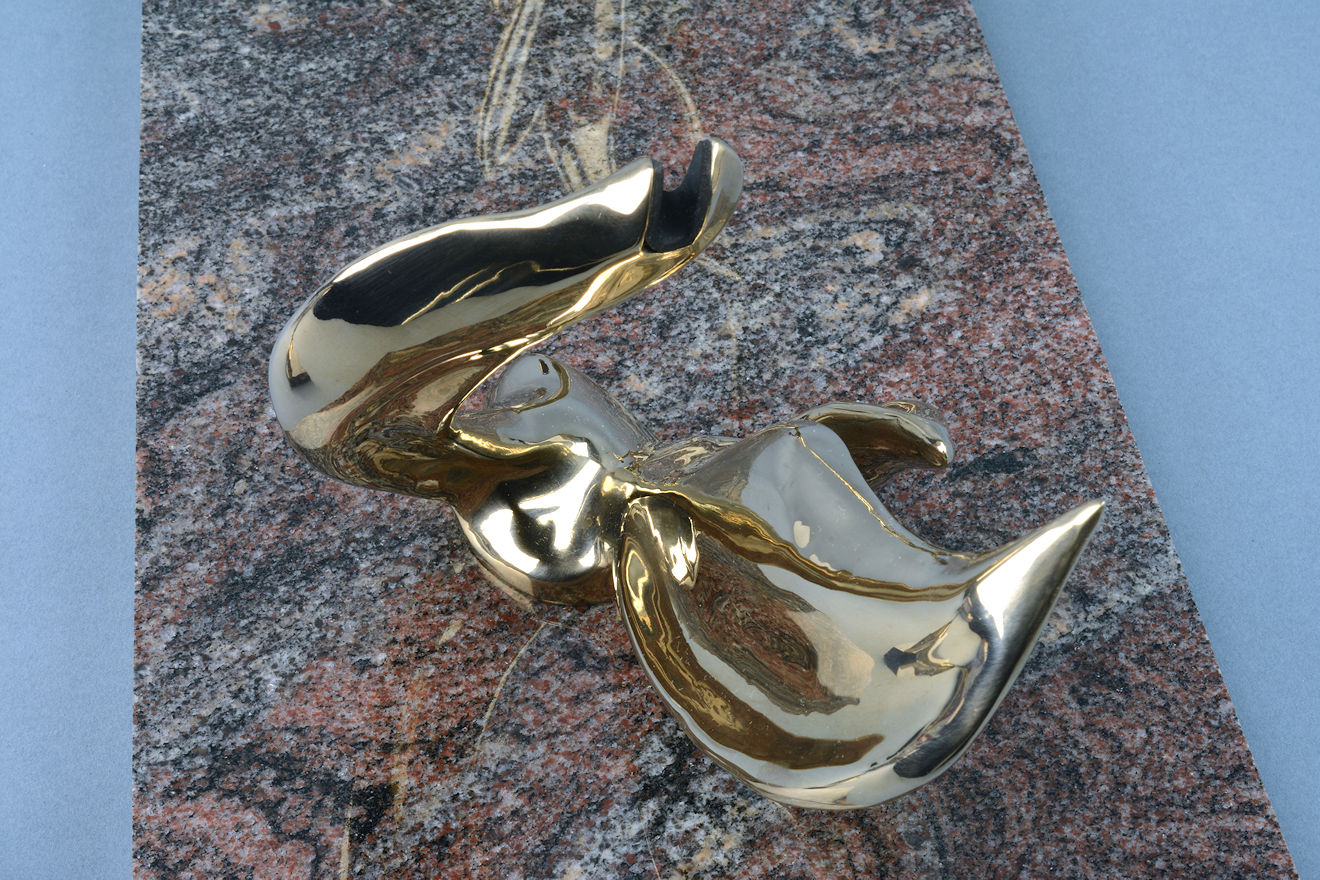 I continued the casting and base material for the nameplate of the piece, made of black lacquered brass, engraved on the front with the name of the artwork, and on the back with a detailed list of the materials used. At home in the stand, the knife point rests in a spool-piece of turned and polished Imbuya hardwood secured through the bronze casting like a vine wrapping around a limb. The ricasso of the blade rests in a neoprene-lined notch in one of the bronze leaves, and the sheath rests closely behind the knife blade. The sheath tail is inserted in a bronze socket in the sculpture, and the sheath top rests on a split bronze leaf. The arrangement of the bronze leaf rising above the wide sheath is countered by the heavy, wide leaves below the knife handle and gives just the balance of arrangement I was looking for.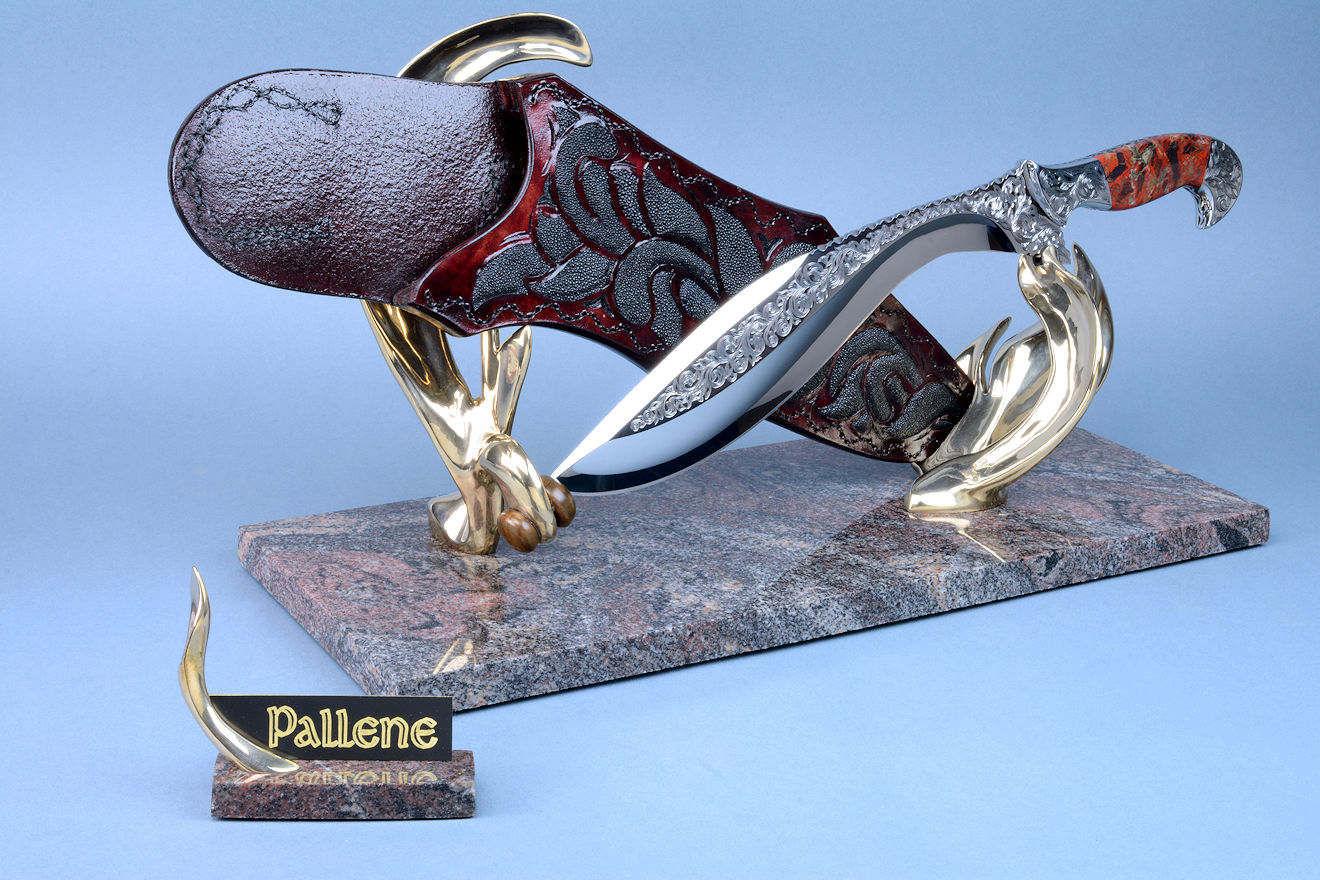 Pallene is a unique mixed-media sculptural piece as well as a functional and highly sophisticated tool, made with the most advanced and superior materials and treatment possible for a knife. United with ancient techniques, style, and materials, it is like no other working art in the world. I am so very proud of this piece, and honored that my patron will give if a great home with his family. I pray it gives many generations of inspiration to know that man's oldest tool will outlive all challenges we may face in our lives.
Please look over the many photos of this piece; you can tell I'm grateful to have invested my heart, mind, and hands in this creation. Thanks for allowing me to share my vision.
"Pallene" Knife Sculpture
Size

Overall Sculpture: 10.6" (26.9 cm) height x 24.0" (61 cm) wide x 8.0" (20.3 cm) depth
Knife: Length Overall: 18.25" (46.4 cm), Blade Length: 13" (33 cm) , Thickness: .252" (6.4 mm)

Weight

Sculpture with Knives: 18 lbs. (8.16 kg.), Knife: 2 lbs. (907 grams), Sheath: 15 oz. (425 grams)

Blade: CPM154CM high molybdenum martensitic stainless steel, hardened, cryogenically treated, tempered to 62HRC, hand-engraved, hollow ground, mirror polished
Bolsters: 304 high nickel, high chromium austenitic stainless steel, hand-engraved
Handle: Brecciated Jasper/Hematite (Painted Valley, Kenya, Africa)
Sheath: Hand-carved leather shoulder, hand-dyed in burgundy and black, inlays of black rayskin, black polyester hand-stitching
Stand/Sculpture: Silicon Bronze hand-cast by lost wax process, polished and waxed, Imbuya hardwood
Base: Polished Paradiso Classico Granite (India), neoprene, engraved black lacquered brass nameplate and materials plate in granite and silicon bronze
Fasteners: All 18-8 austenitic stainless steel
Thanks, C. B.!
Jay,
I received the "knife" that I ordered and I have been contemplating for several days now how I might be able to adequately express in words my feelings.  It is stunning.  I have been a long time admirer of the kukri style knife and I remember when I first came across your Phlegra knife style on your website over 6 years ago.  I knew that I had to have it.  We have had several discussions over the development of the project since I first ordered it and I think that the best decision I made was to give you full artistic license and request that you create something that you felt would be worthy of your skills and time.  You are a visionary.  I have imagined over the years what it might look like, but I could have never been prepared for what arrived.  It is a masterpiece. There is no other way to describe it.  I feel that I own the finest knife ever made, I really do.  The entire composition of the knife, sheath, and display are perfectly cohesive and complimentary.  It really is difficult to pay attention to anything else when you are in the room where it is displayed.  I appreciate and value hard work more than most.  I don't know many people who work harder than I do at my job, though my reasons for working as hard as I do are well known to you.  When I think about what went into the production of this piece, the hours, the attention to detail, the precision, focus and skill required to create something of this magnitude; I feel compelled to admit that I underpaid by a substantial amount what it is worth.  It is priceless to me.  It will survive for generations and will be a legacy piece in my family.  I hope to one day be able to give it to my son.
One day, I would like to sit down with you and express to you personally how much I appreciate what you have made for me.
Thank you Mr. Fisher.
Sincerely,
C. B.
---
Mr. Fisher,
AMAZING work in the Pallene... that must be one of your best (if not the best) works of art you have ever created. You really demonstrate your superb skill in this one. From the blade shape, grind, hand engraving, polish; everything is just so perfect. Even the sheath and stand are superb by themselves. You must have put enormous effort and time to create the whole package.
Thank you for sharing this.
--H. R.
---
---