Taibhse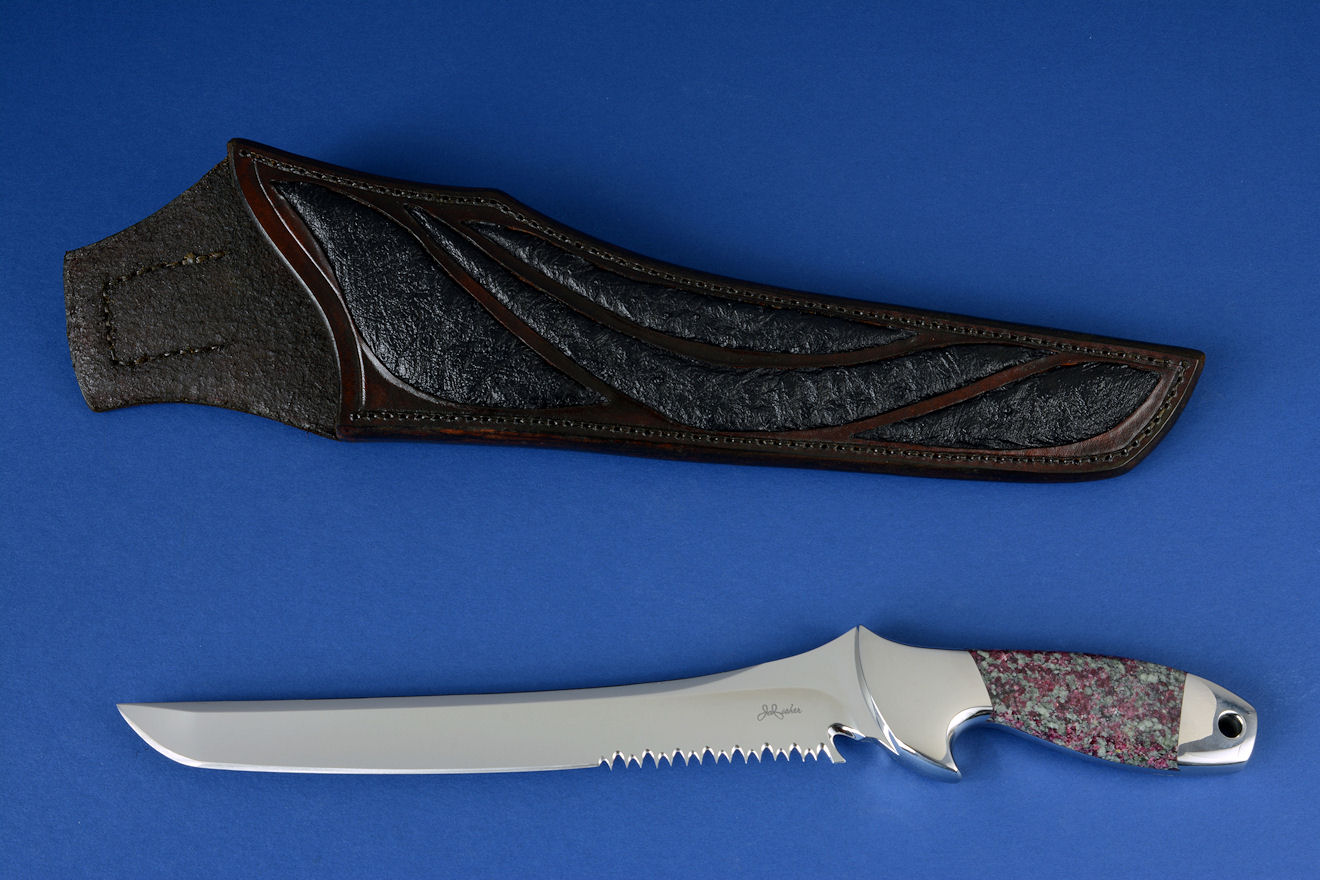 "Taibhse" Fine Handmade Custom Knife
Size: Knife: Length overall: 15.0" (38.1 cm), Blade Length: 9.75" (24.8 cm), Thickness: .250" (6.35 mm)
Weight: Knife: 1 lb. 4 oz. (567 grams) Sheath: 10.4 oz. (295 grams)
Blade: CPM154CM high molybdenum stainless tool steel, hardened and tempered to 59HRC, mirror polished
Bolsters, Fittings: 304 Austenitic Stainless Steel, mirror polished
Handle: Eudialite (Almandine Garnet) Gemstone from Russia
Sheath: Hand-carved leather, hand-dyed, inlaid with Emu skin
Knife: A truly unique and original knife for a great client, this custom made Taibhse is the old Celtic word for ghost. Sleek and keen, this knife was designed with direct input from my client and patron, and the result is a knife that is stunning, clean, and original. The blade shape has hints of ancient times, clearly a tanto style but with a slender form. The nearly full length top swage adds to the graceful appeal while reducing spine weight and cross sectional profile of the point. The blade is made of a magnificent steel: Crucible Particle Metallurgy (CPM)154CM This was originally created as a modification of 440C to offer better wear resistance and hot hardness, while being tougher and more resistant to breakage overall. CPM154CM is closer to ATS34 in alloy content, the high chromium-molybdenum stainless steel of choice for extremely tough applications. This is a true powder metal technology tool steel, formed by spraying the atomized metal particles to form with no segregation of alloy components, and an absolutely uniform distribution of the alloys, followed by fusing in high heat and pressure. This creates an extremely uniform billet, and the result is regular, isotropic distribution of alloy elements, high dependability and performance, and uncompromising beauty, as there is no grain structure visible to the unaided eye in this brilliant steel. The high chromium and high carbon of this steel assures a substantial carbide volume, and that makes the steel more difficult to make a blade out of, but in the case of Taibhse, worth it. The high molybdenum makes the blade very tough, and very resistant to breakage. This steel is also very resistant to corrosion, and in the mirror polished state, can be superior to 440C. The Taibhse blade is fully hollow ground, with a thin and razor keen single bevel edge, and three inches of my Vampire rip teeth serrations, the most aggressive and vicious serrations I create on any knife. Also added at the ricasso is a deep angled line cutter. The blade is a full quarter inch thick at the ricasso, for robust blade to handle strength, and the tang is fully tapered for balance. My client requested no filework for a clean, smooth handle and blade transition, and large, multi-pinned bolsters in 304 high nickel, high chromium austenitic stainless steel, mirror polished and smooth. The bolsters bed and lock a pair of striking Eudialite gemstone handle scales. This stunning gem comes from the Kola peninsula in far northwest Russia, and is almandine (garnet) crystals that are reddish-lilac or hyacinthine in color. The crystal bearing gemstone handle scales are polished and smooth, and all areas of the handle completely finished, contoured, rounded, and comfortable. The handle shape with the large belly and deep forefinger quillon in combination with the large thumb rise supported by the front bolster means that the feel of this knife is elegant, silky, and solid with the balance point at the front quillon apex.
Sheath: For a commensurate sheath, I chose an arrangement and design that is subtle yet classy. I designed a high-backed leather sheath in 9-10 oz. leather shoulder, a very heavyweight leather that is durable and thick. The long blade rests between substantial welts that are hardened and polished. The sheath is hand-carved to accept 11 large inlays of black Emu skin artistically arranged on the front, back, and even on the wide belt loop. The Emu is soft and tough, and the leather is dyed to a deep chestnut brown color and hand-stitched with brown polyester. The entire sheath is sealed with an acrylic gloss sealer and hand waxed and buffed to resist the elements and time.
A stunning, beautiful, and refined arrangement: a knife with unique and exquisite simplicity and form, a commensurate sheath of rugged security and authority.
Thanks, B. M.!
I had this this white box on my bench….Like the new drawstring bag that comes with the knife..
The knife is an amazing recreation of a vision upon which we collaborated to the "T." I looked at every seam and joint with 3.5X loupe magnification..polish and fit are amazing (not a space or rough spot anywhere, stone color is dramatic and the dovetail fittings are for me technically unimaginable (except that I have it here real-time in my hands), the sheath is a real work of art…the stitching and leather selection are so well constructed and the edges are solid and even. This specimen and leather selection is a real work of art.
The balance and ergonomics are excellent. The appearance of the knife belies the intricate balance your skills have achieved. One would think from looking that it would be blade heavy, but it is not.
All in all I am totally pleased. Unfortunately words are insufficient to match your skills as a master craftsman.
Keep up the good work…
--B.
---
---