Tarazed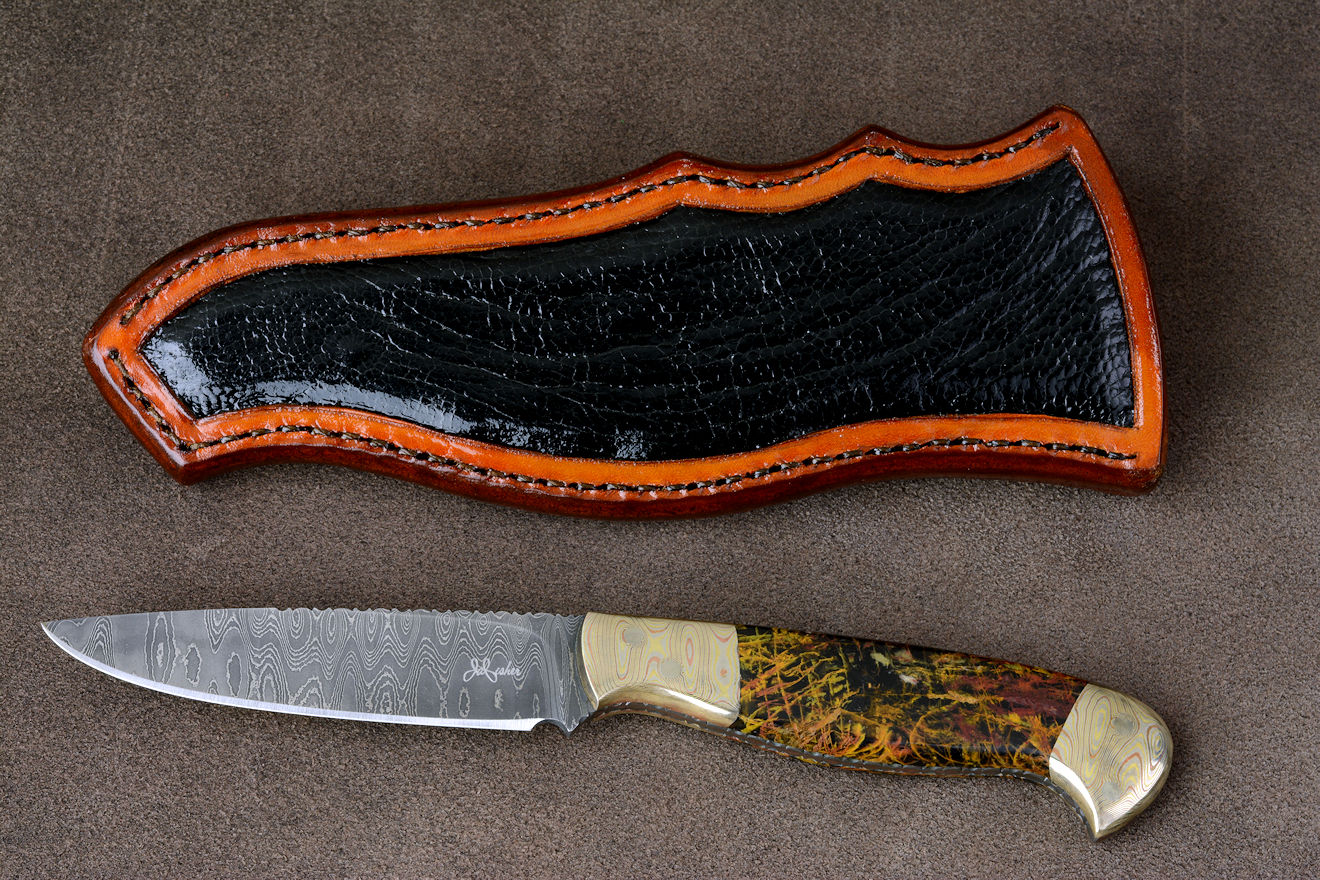 "Tarazed" Custom Knife
Size: Length overall: 8.13" (20.6 cm), Blade Length: 3.75" (9.6 cm), Thickness: .122" (3.1 mm)
Weight: Knife: 5.3 oz. (150 grams) Sheath: 5.0 oz. (142 grams)
Blade: Stainless pattern welded damascus in 19C27, 302, and D2, Cryogenically Treated, Hardened and Tempered to 57 HRC
Bolsters, Fittings: Mokume Gane in copper, brass, and nickel silver
Handle: Pilbara Picasso Jasper Gemstone, Australia
Sheath: Hand-carved leather shoulder inlaid with Ostrich leg skin
Knife: Tarazed is named for a star in the constellation Aquila. It also means the beam of a balance scale. This is a great drop point knife, and it's custom made for a great client who requested specific materials. My client wanted a stainless steel twist pattern damascus blade, and I made this one of stock of pattern welded 19C27 hypereutectoid stainless steel, 302 austenitic stainless steel, with a core of D2 high alloy extremely high carbon die steel. This is perhaps the best stainless damascus stock made. The knife is accurately hollow ground, with full, light filework, and I performed a deep cryogenic process in the heat treatment, with a 40 hour cryogenic aging at -325°F and triple tempering with deep cryogenic thermal cycling between tempers. This results in the very best condition this steel can be, and it's hard, tough, and wear resistant. It's etched to bring out the pattern and bolstered with mokume gane bolsters. These are diffusion welded layers of copper, brass, and nickel silver, attached with pinned and peened nickel silver pins. They are also etched to bring out the pattern of the layers. When etching the bolsters, a copper wash plating forms on the spine of the knife, adding some corrosion resistance to the D2 and blending the handle, spine, and bolster colors. The bolsters are contoured, rounded and dovetailed to bed a pair of striking Pilbara Picasso Jasper gemstone handle scales. This is a very hard, tough, and beautiful gemstone from Australia, and I polished the scales to a high glassy luster. This stone is so durable it will clearly outlast the entire knife! The striking patterns of the jasper and the forged metals work well together for that certain look my client wanted, a unique combination of striking texture and beauty.
Sheath: The sheath needed to match the knife, so I matched the colors of warm orange-brown and black of the gemstone with dyed 9-10 oz. leather shoulder, hand-carved and inlaid with full panels of black glazed Ostrich leg skin in the front, back, and the belt loop. I hand-stitched the sheath with brown polyester, and sealed it with acrylic for durability.
A distinctive multi-patterned custom piece of unique materials and bold combination.
Thanks, C. B.!
---
Mr. Fisher,
All I can say is WOW!
Calling your work beautiful doesn't seem to do it justice.  I've caught myself going back to the picture link over and over again.   The Jasper you used is remarkable, and the other finishing touches compliments the entire knife as a whole.  I can only imagine how good it looks in person, and will probably look even better in my hand.  Thank you very much for taking the time to create this knife for me.
Again, awesome work from a talented artist!!
Best Regards,
C.
Later:
It's a gorgeous knife.  Looks even better in my hand.  The Jasper really stands out.
---
---