Vesta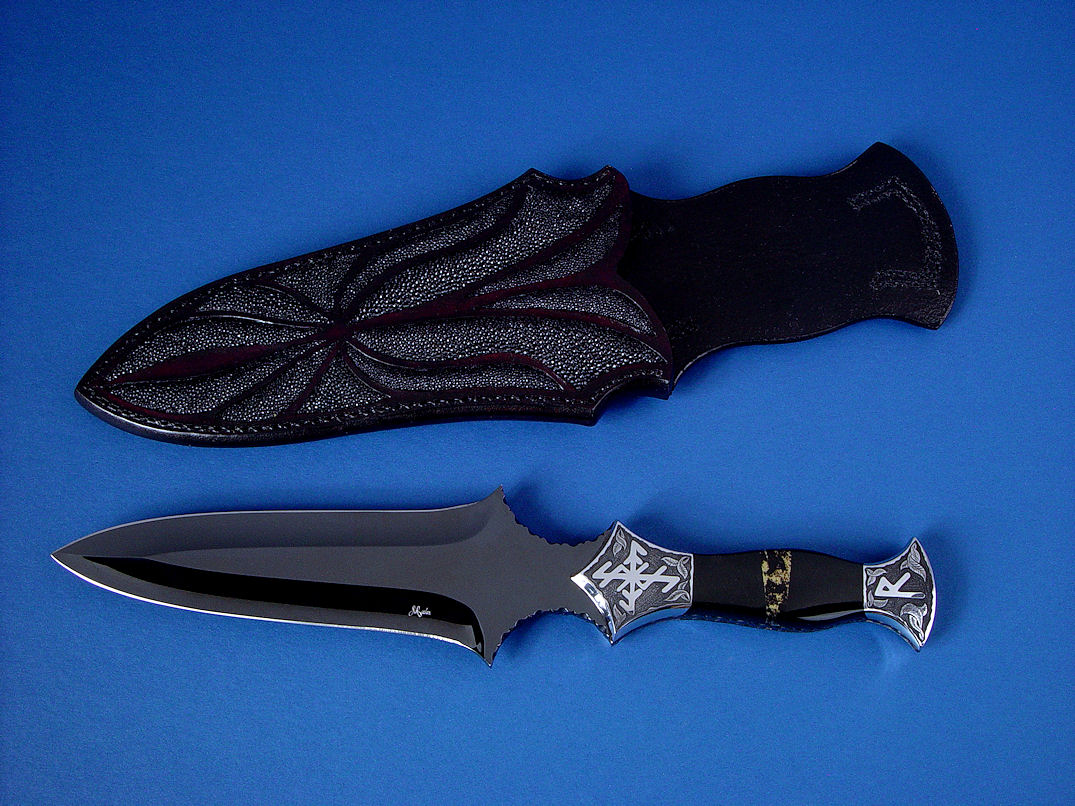 "Vesta" Custom Black Rune Dagger
Type: An investment grade custom collector's dagger and athame
Size: Length overall: 13.0" (33.0 cm), Blade Length: 7.6" (13.3 cm), Thickness: .240" (6.1 mm)
Weight: Blade: 1 lb. 4 oz. (567 grams) Sheath: 8.0 oz. (227 grams)
Blade: O1 high carbon tungsten-vanadium tool steel, hardened and tempered to Rockwell C59, mirror polished, hot-blued
Fittings/Bolsters: 304 austenitic stainless steel, hand-engraved
Handle: Polished Australian Black Jade, Apache Gold (Pyrite and Shale) gemstone mosaic
Sheath: Black stingray skin Inlaid in hand-carved 9-10 oz. leather shoulder
Knife: In dynamic harmony of materials, finish, design and theme, this piece flows together like no other. This is one of my most beautiful daggers and will always be one of my favorites. Please take some serious time examining the extensive photo set below to understand what I mean. Commissioned by a special client to his specifications, the Vesta pattern (named for the Roman goddess of the hearth), is a stunning custom black rune dagger and athame, with some very special features. The blade is tightly and cleanly hollow ground with a three inch contact wheel for a firm and substantial spine with elegant and thin cutting edges. Made of hard and wear-resistant O1 high carbon tungsten-vanadium tool steel, I meticulously ground and mirror polished this fine blade before I professionally hot-blued it for a deep, dark, glossy and slick black oxide surface that just soaks up the light while offering improved corrosion resistance. I also blued the spine of the full tang handle, and fully fileworked the tapered tang with a deep vine pattern. The knife is bolstered with sculpted and polished zero-care high nickel, high chromium 304 austenitic stainless steel, in which I hand-engraved my client's custom runes. The front bolster has special bind runes and the rear bolsters have individual historic Germanic runes to my client's specifications. It took quite a bit of effort to engrave them in deep relief, with blackened backgrounds and flanked by high detail entwined leaves, bringing it all together for the look that is just right. The bolsters are dovetailed and bed unique mosaic gemstone handle scales in polished Australian black nephrite jade gemstone paired with matched wedges of Apache Gold, a metallic, lustrous polished pyrite and shale gemstone. The knife feels substantial and vital in the hand, with the balance point at the front bolster face.
Sheath: The sheath for this magnificent dagger had to be very special, so I created one in 9-10 oz. leather shoulder, dyed in black cherry, with 32 (yes, 32!) mirror-placed inlays of black stingray skin. This is a very difficult and painstaking sheath to make, with plenty of hand-carving and tedious scalpel-work, but the effort truly paid off, as this is one of the finer knife sheaths I've made. Even the double-row stitched belt loop has ten inlays of the exotic ray skin proudly standing above the rich, deep, black cherry leather surface. I hand-stitched the sheath with black nylon for high strength and durability, and finish-coated the surface with glossy organic surface sheen sealant. The knife is just right in the sheath, with the front sculpted bolster pointing right into the sheath face and mouth.
This is a magnificent piece; an honor to make!
Thanks, R.N.!
---
Hello Jay, it arrived on the 10th safe and sound. It is truly amazing! I cannot thank you enough for the amazing work you did bring this dagger to life for me. It is truly a work of art that I will cherish for years to come. It is amazing to say the least!! I was almost moved to tears with how perfectly you have brought the athame that I envisioned into reality for me. Thank you.
--R.N.
---
---