Yarden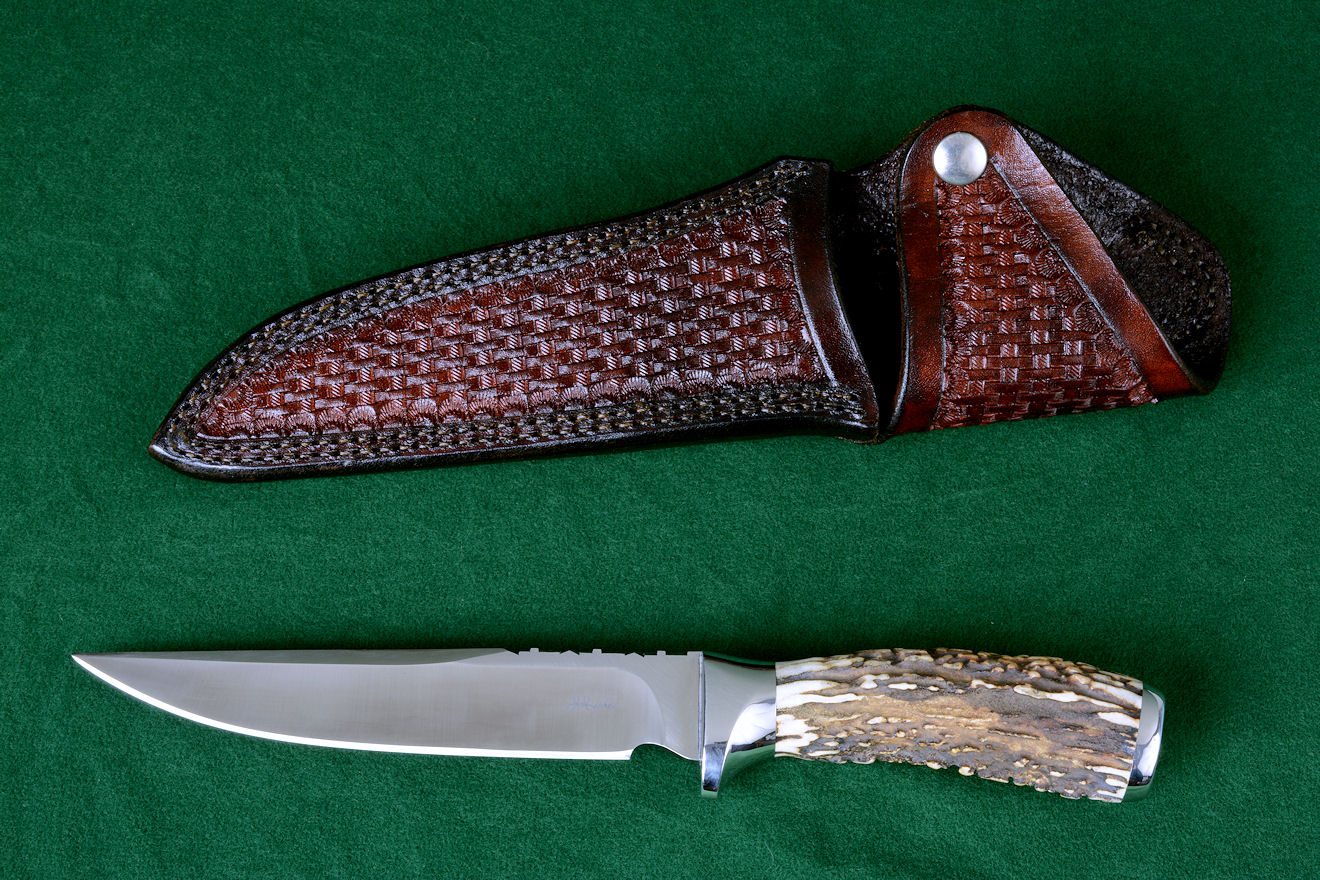 "Yarden" Fine Handmade Custom Knife
Size: Length overall: 11.5" (29.2 cm), Blade Length: 6.6" (16.8 cm), Thickness: .195" (5.0 mm)
Weight: Knife: 11.6 oz. (329 grams) Sheath: 7.5 oz.(213 grams)
Blade: CPMS30V Martensitic High Vanadium Stainless Tool Steel, Hardened and Tempered to Rockwell C59, satin finished
Fittings/Guard/Pommel/Tang: 304 Austenitic Stainless Steel, mirror polished
Handle: Sambar Stag Horn
Sheath: Hand-Stamped Basketweave 9-10 oz. Leather Shoulder, Stainless Steel
Knife: The name Yarden means "One who descends" and is the root Hebrew name for the Jordan River, where Jesus Christ was baptized by John the Baptist. This is a very special knife, custom made for a rancher in the Golan region. He requested the handle and artwork, and an aggressive knife that would accommodate wild boar hunting. I designed this Yarden based on my popular "Sanchez" design, and made it much larger and a bit broader with a hidden tang. The blade of the Yarden is made of CPMS30V, an extremely wear resistant and tough powder metal technology stainless tool steel with high vanadium content. This is one of the most wear resistant steels made, and the powder metal process yields unsurpassed carbide content and distribution. Since it's a high vanadium tool steel, it can't be mirror polished so I finished this blade to a high satin finish for excellent corrosion resistance and easy cleaning. The blade is deeply hollow ground for a thin and effective point and cutting edge, with a half-length top swage that reduces point cross section without sacrificing point strength. The blade is soldered and sealed to a thick guard of 304 stainless steel, in fact, all fittings and parts of this knife and handle are stainless steel for tremendous corrosion resistance and strength. The guard is sculpted and polished for a smooth fit, with just enough quillon to prevent the hand from sliding onto the razor keen blade. The handle inside is just as important as the outside, and you can see from the photos below how strong this knife is built. Because my client requested the best stag possible, I made the handle with Sambar Stag, a heavy thick and dense horn from the deer on the Indian subcontinent. This is a solid, tough stag, with a great texture and feel that nothing else compares with for grip and appearance. Since I wanted the stag horn to be in the round, this required a hidden tang construction. Since this knife will see heavy use, I wanted to build it as strong as possible. The internal parts are all 304 stainless steel, a 3/8" diameter stainless rod is welded in a high purity process to the tang of the knife blade and then carefully annealed in a multi-step process for high toughness and resistance to breakage. The 3/8" rod is threaded into the pommel, which is welded to a 1" long threaded nut that engages the tang. The entire assembly is filled with the toughest waterproof epoxy compound I use for all of my tactical knives, for a solid, rigid, and permanent hidden tang handle with unsurpassed durability. The handle feels solid and tough in the hand, and the curve of the handle is feels comfortable and warm. The balance point of the knife is right at the forefinger location, for a perfect touch.
Etching: My client requested a personalized custom embellishment in tasteful execution, so I fileworked the blade in three crosses spaced by diamonds, honoring the name, location, and spiritual significance of where this knife will call home. The knife is etched with the biblical verse and reference: "Render the Lord's anger with fury -- Isaiah 66:15" and a rampant horse head in flaming mane.
Sheath: The sheath had to be as tough and long lasting as the knife, so I made this one in hand-stamped and tooled 9-10 oz. leather shoulder, deep and protective of both the razor edge and the wearer. This is a high back style of sheath that allows a lower wear on the belt, while protecting the wearer from the handle butt. The sheath has a folded flap for security that protects the handle and will not snag in heavy brush. The flap is secured with an all stainless steel dot snap for zero corrosion concerns. The pattern tooled in the leather is a clean and straightforward basketweave, elegant and complete, even on the sheath back. The sheath has two belt loops for versatility in wear, and every bit of the sheath is stitched with double rows of brown polyester for moisture resistance and strength. The sheath is dyed bison brown, lacquered and sealed.
This is a beautiful natural and comfortable knife, suitable for hard ranch work and long lasting durability, custom made.
Thanks, Noah F. and S. H. !
---
Jay,
The knife is breathtaking! Thank you!!!
--S.
---
Dear Mr. Jay Fisher, I received your knife the Yarden about a month ago. Since then the knife has been an inseparable part of my daily life. I use it to do everything around the ranch from opening bales of hay to skinning hides. The feeling of having this MAGNIFICENT tool on my side is second to none.
I have to say that the knife is the BEST art work I have ever seen or felt. From the shape and strength of the blade to the unbelievable comfort and art of the handle. It is like the knife is an extension of my hand and simply feels so natural to handle!! I have been around knives all my life but I finally understood the difference between a knife and a Jay Fisher knife!! Without a doubt the unique balance, feel and art work is one of a kind!!!
I can not thank you enough for your effort in making this knife and I will forever cherish this marvelous tool.
Thank You.
Your friend,
N.
---
---