Khensu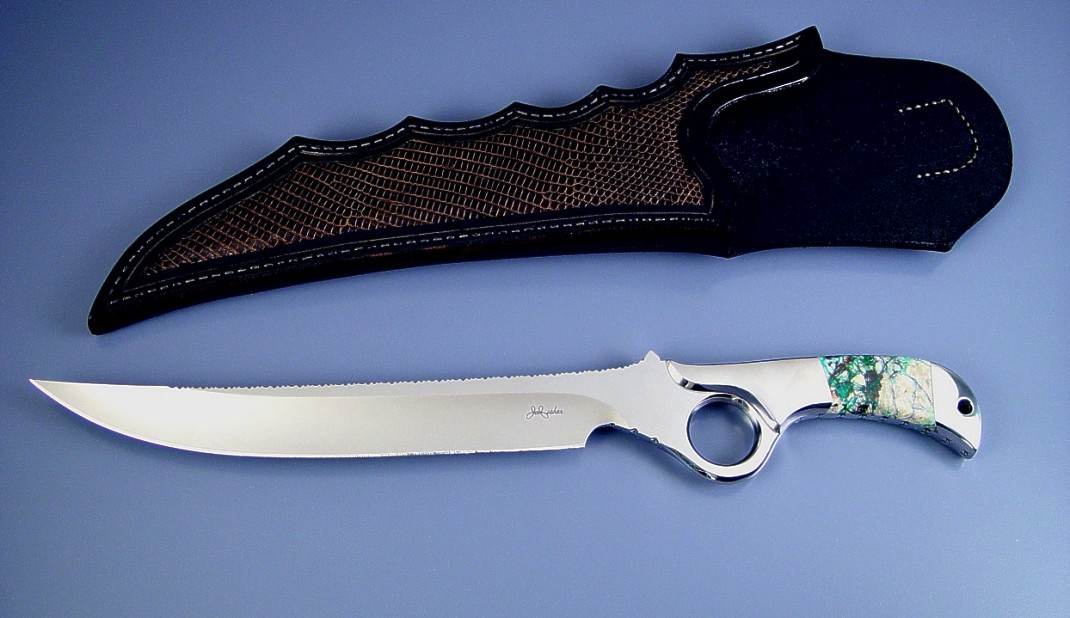 "Khensu" Fine Tactical Art Knife
Size: Length overall: 15.0" (38.1 cm), Blade Length (at edge): 8.75" (22.2 cm), Thickness: .255" (6.5 mm)
Weight: Knife: 1 lb. 1.5 oz. Sheath: 9.5 oz.
Blade: 440C High Chromium Martensitic Stainless Tool Steel, Hardened and Tempered to Rockwell C59, hollow ground and mirror polished
Fittings/Bolsters: 304 stainless steel, mirror polished
Handle: Polished Cuprite Mosaic Gemstone
Sheath: Hand-carved leather inlaid with ringmark Lizard skin
Knife: Here's a great knife commissioned by one of my favorite clients. The Khensu design is a hybrid, based on my Stealth blade and my Diacria handle. This is a large, meaty, yet slender knife, and I love how it came out. The blade is high chromium, low maintenance 440C for greatest longevity with a beautiful mirror finish. The lines of this knife are clean and crisp, the grind termination is sweeping and matched, with an even hollow grind throughout the blade length, but with plenty of thickness at the point for strength. The blade is fileworked completely, with a tight pattern at the blade spine and evolving to a simpler pattern around the handle and on the inside of the handle to the choil for visual interest. The blade has a powerful forefinger ring: rounded, smoothed, and mirror polished for a comfortable feel. Above and around the ring are the sculpted front bolsters, mirror finished and made of zero maintenance, tough, hard 304 stainless steel. The rear bolster has a bit of hawk's bill quillon, for an easy grab and secure hold, with a through-tang lanyard hole. The dovetailed bolsters hold a pair of beautiful polished Cuprite Mosaic gemstone handle scales, a striking mixture of Copper Ore, White Quartz, Malachite, Chrisocolla, and Turquoise. What a beautiful piece of rock, for this graceful, elegant blade.
Sheath: The sheath for this knife had to be commensurate with the quality of the blade and handle, so I went wit a full panel inlay set of rich brown Teju lizard skin in hand-carved 9 - 10 oz. leather shoulder, hand stitched, lacquered and sealed. The knife alone is a work of art; take a good look at the pictures.
Thanks, P. K.!
Jay,
I received the art pieces Thursday. The Khensu is a masterpiece in every respect. There is no computer that can show the true awe of the weapon. The filework is perfect, sheaths are designed to highlight the piece, and there is nothing more that can be added to them!
Thank you for letting me purchase them from you!
-P.
---
---